I've heard so much about this Football thing, I thought I'd check it out. Saw this football laying in the street and was curious about it. Being a Sock Monkey of sound mind and body, have heard

alot

about this human sport. I do know this is mainly a winter sport. That's fine cause

tonight's

temps are suppose to reach freezing in Middle Tenn. Here I am staring the old pig skin in the face and not knowing what to do with it! I've never played any sport in my sock life. This being the Charlie Brown's 60

th

anniversary as Lucy holds the football for old Charlie Brown to kick and yanks it away when Charlie runs up to kick the ball. He always lands on his back!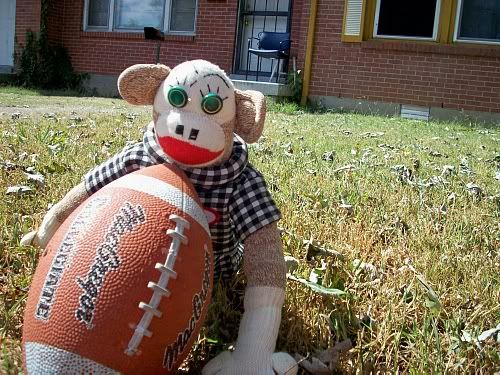 Keeping this in mind when my Dad ask me if he should hold the ball so I can kick it. I politely refused and smiled for the camera! Always the celebrity even with a football

dilemma!
I tried tackling it,but that didn't go so well. I just rolled over and tumbled in the grass. Ended up laying on my back much like Charlie Brown. It was worth a try and not to worry,I left the football so whomever it belongs to can still claim it.
Bubba