Good evening Possum's and Friday night lovers! Most of you have gone out to movies this bein a Friday night and all, but I decided to play with my food! I just want to say that no Sock Monkeys were hurt durin this experiment. I also hired my stand-in for this fun and also very weird food excurshion. Ever wonder what a Sock Monkey looks like in a bowl of spagetti?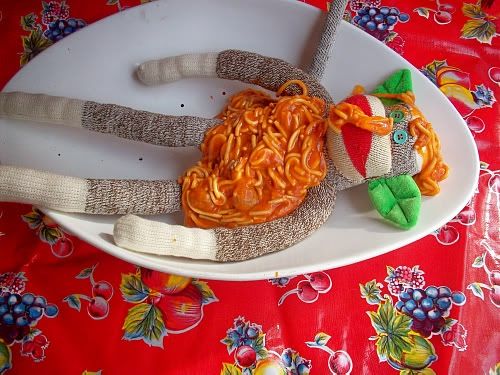 Well? Now ya'll know! By the way this is binga-bonga. Everybody say hello to Binga-Bonga! Heeeyyy...Binga-Bonga! What ya'll doin in that big old bowl of Spagetti?
Binga-Bonga- Why rollin around in spagetti sauce of course! Turned my ears green by the way!
And that's what we Sock Monkeys are a doin here in The Sock Drawer on a Friday night! I'm Bubba and this is Binga-Bonga! Happy Friday night!