Okay My Possum's! The Sock Drawer is open for another adventure. Welcome and hello by the way. Please forgive me for bein so rude. Didn't mean it!! But there is much to cover this blog time and since this space is rented and also considered my studio (if you will) I was tryin to get right to the point!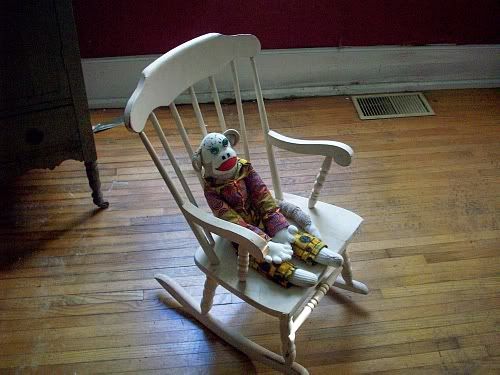 I have not been sittin around in some kid rockin chair just collectin dust! I'm told most Sock Monkeys do, but not this puppy! I'm a brown work Sock and I go to work! With a red heeled smile of course , but a smile never the less!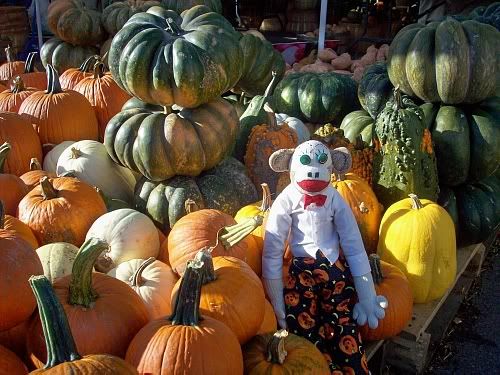 Funny thing this pumpkn sittin thing! Something I was gonna omit this holiday season and try to find a different approach. Still I am findin the most wonderful pumpkin sittin opportunities and Ya'll's Bubba was there to take charge of the situation!
And so I did this day in question! Stacked pumokins and all! Every shape and color one could ask for! Stack'em up Possum's cause here I come! I'm a professional pumpkin sitter!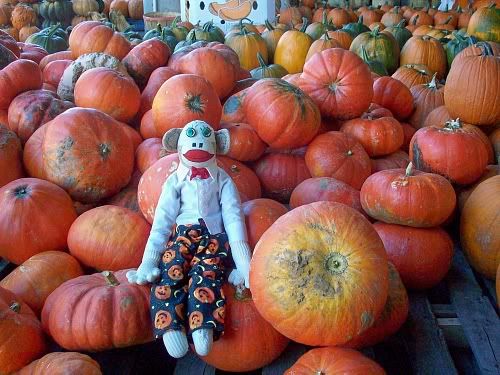 Gosh Golly gee whiz! I even had on my pumpkin pants! I think it was meant to be...at least I'd like to think so. Fact? or fiction? It's a fact! I guess you could say I'm a talented pumpkin sitter! Not sure that would be considered a talent or not , but why not. Shall we all take a vote on that note? Kay! I see the I's have it!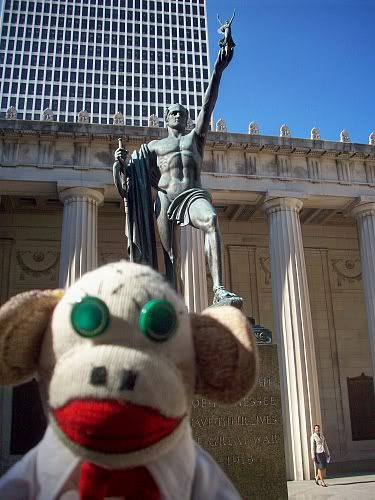 CHARGE!!!!!!

Great statue for that one don't you think? I saved that one for just such an ocassion!
Totally WICKED! I did go to see the play Wicked on the 19th! I have to say I never thought about the Wicked Witch of the West not really bein Wicked! The story tells of how she got to the point of the way she was in The Wizard Of OZ. Ga-Linda and she were room mates in college? Really? They were really friends with each other! And the scarecrow? Her lover turned into a scarecrow to save his life. They even explained the Tinman! I'll not tell you anymore!
http://youtu.be/3g4ekwTd6Ig
Well I hope I did this right! Enjoy this you tube video of a scene from Wicked! My Peeps and I did so enojy seein this play! Standin ovation at the end! I highly reccomend ya'll see it! Well...I shall close this edition of Bubba's Sock Drawer for now. Bubba