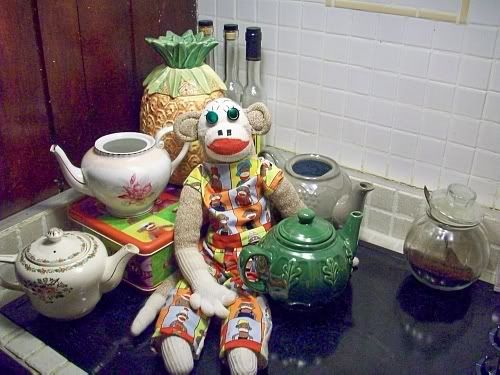 The hearts have all flown out the window now that it's all over. I must say that all of Mike's cakes were sold completely out! Love was in the air over his sweets! That is perfectly ok.
Mike and I had the most wonderful day off for Valentines. He worked on his own V-day present to himself. It was finished and we will show you what it is here in just a mintue. He had two Teddy Bears on the cuttin table that needed finishin with their refurbishin. They are now done and have joined the ranks of all the other Teddy Bears in his collection. It was a fun day for us both.
Here is Mike's V-Day present to himself.....
Now. If ya'll remember the old rubber faced monkeys from the 60's that held a banana in his hand.They usually had rubber white shoes. Yellow and black fur. Mike just happened to find the face,hands,ears and feet of a rubber nature,on ebay. He was curious about if he could make this monkey. Was interested in usin the Monkey brown work socks for his body. This one is a little different in the fact it has sleep eyes. They close when ya lay him down. We were in love with his feet! They are so funny. I was quite pleased at his cunnin artistic ability ta pull this project together. The face and feet and hands sat around here for months before he got the courage ta give it a try. Once he started the project,he was wonderin why he hadn't started it sooner.
Have a great Monday Possums! Bubba