HELLO MY Possum's! Yes I admit this is also the title of this blog...but hey! I'm just sayin! Was out and about as I usually do and found this really coll guitar!
Ain't nothin but a Nashville thang! The Possum was painted on it. A replica of the George Jones guitar. "The Possum". I knew he was a Sock Drawer Possum all along! Well....I'd like to think so anyway.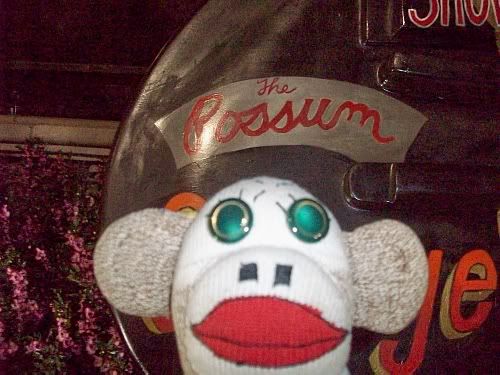 And there I am the original Sock Drawer Possum in person! Cain't touch this!!!! Just a little bit of the MC Hammer thang. I just had to touch on it. My staff and I ran into this display of the George Jones guitar "The Possum" at one of the shoppin centers we attended. Now on with the real blog at hand! The story starts out my staff and present roomate decide to make the long hour drive down to Shelbyville. Mainly to see what's there and if there might be a story to tell here in my blogness! There was.
Welcome to the capital buildin of Shelbyville! I know it's a nice change from ya'll seein the Nashville capital all the time here, but there is always something goin on at the Nashville capital buildin , such as all different kinds of festivals and the like. So Shelbyville here it is! Don't ya'll all run up and cheer all at once! We'll just call'em the country Possum's! Shelbyville is a small town kind of out in the country farmland and small town feel.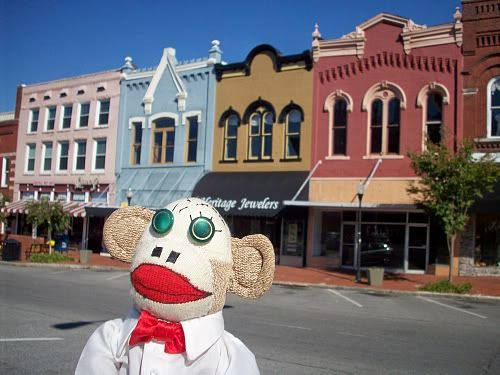 I love reportin on the small historical squares of towns. It was a charmin feel as I walked down the streets and breath in the fall air. As ya'll noticed, the streets are kind of deserted. It was a Sunday when we visited. They still observe the bein closed on Sunday thang as it was in the olden days.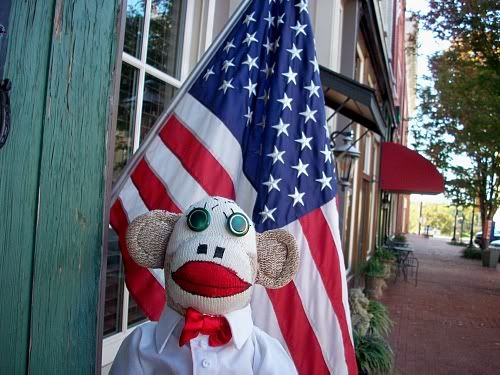 There's always a patriotic moment here and there. I saw this big old A.F. hangin out as I walked and saw a photo moment way before my camera crew thought of it. It's the one and only time I was ahead of'em.
The only place open this paticular Sunday in question...was the antique store. We deicded to walk inside to take a gander at what they had to offer. What I found was the best folk art place!
I have to say I never thought I'd be sittin on a butterfly painted bench in my life,but I guess it was meant to be for some reason or another.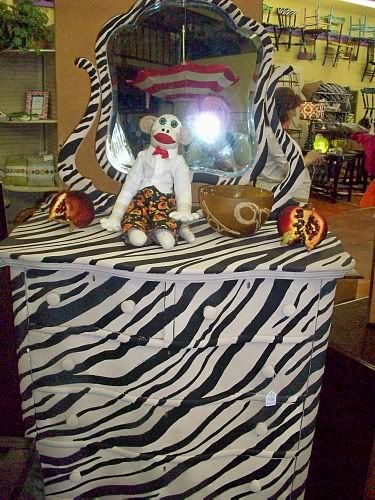 Zebra this my Possum's! What a cool idea! I'd say someone has an eye for the Zebra look. I thought it was a creative idea!
The artist also created a Zebra themed dininroom set. I'd say quite the conversation piece and very artistic.
I knew ya'll was waitin for that little bit of Christmas touch, so here it is. Merry Christmas Mickey! Thanks for the cane Dude!
And for those of ya'll waitin for the bit of scary creepy thang because Halloween is just around the next corner...well? I found the boogyman! BOO! Just kiddin!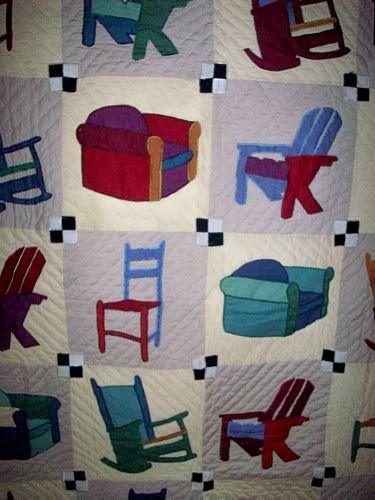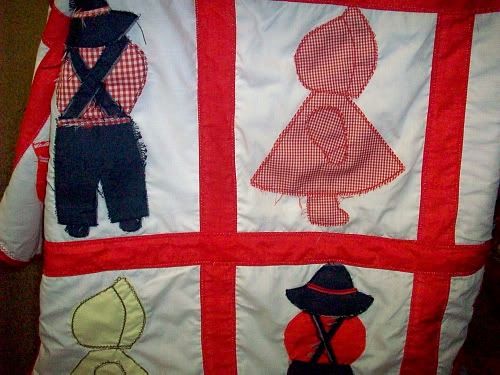 I did not forget my favorite quilter Possum's! This store was filled with many goodies and deffinately covered everyones taste.
Okay Possum's...If ya'll are worried about it,but I did approach the woman runnin this great place and ask for permission to make this blog. I didn't just assume I could come on in and take over. She was as nice as she could be and I did stand there for a moment and jaw just a bit. Hey girl! Here's the blog as promised! Ole Bubba runnin amuck in your shop! Ya'll have been Possumed! Welcome to The Sock Drawer! Come on in and Possum yourselves around! Possum is as Possum does!
Here Kitty! I love this paintin! The colors are cheerful and the hat adds just a bit of whimsical! Geared to make anyone smile! For that cat lover in ya'll's lives!
Remember these? Funny...it doesn't fit into my pocket like the IPhone does. This is where it all began! Hard to believe right? This is the IPhone t-model! I have to LOL on that note.
This was one of my favorite paintins in the place. I love the colors.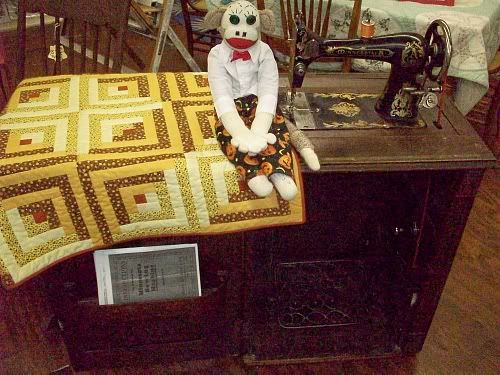 Alright sewer and quilt Possum's! This ones for ya'll! Nice display if ya'll ask me! The antique sewin machine and all. I was livein it up in this store!
Painted Chairs everywhere! I love it!
Alright Raggedy Anne...your not forgotten! Take that ragdoll thang to the limit! Work it girl! Walk the runway and be proud! You and I are the folk artiest! Yes I created a word! Just go with it!
This is for my down deep south Georgia Possum's! Hey JuJu! Bear hugs to ya'll! I so enjoyed my visit to Shelbyville! I guess for now it's time to close The Sock drawer on another adventure!
Bubba