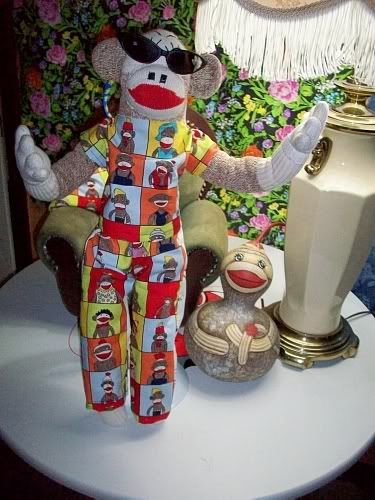 Late night bloggin Possums! Here I am in the second newest edition to my wardrobe. I'm ready for the Paparazzi! Dressed from head ta toe in Sock Monkeys! Gotta support the brothers. Funny thing bout this paticular emsemble is.....and I ask for a drum roll........
The designer use a completely different fabric on the backside! Now ya'll know where I got my tattoo idea from. Doesn't that look really cool? My designer has another pair of pants on the drawin board. But I'll be sure ta show ya'll the new threads as they roll out of the presses. So to review the previous look;
I like ta wear some crazy dud's from time to time. Shows my versatility in the fashion world. Joan Rivers might find some of it distasteful,but at least their talkin bout-cha for months. You'll also be on the cover of every fashion magazine ever made. The coverage is awesome. Keep them guessin. Don't let'em think of ya in your tux all the time. I may be a celeb.,but I do have down time as well.
My hand puppet the past time at 2:00 A.M. in the mornin. Ya'll have a good nights sleep. SSssssshhhhhhh! Bubba