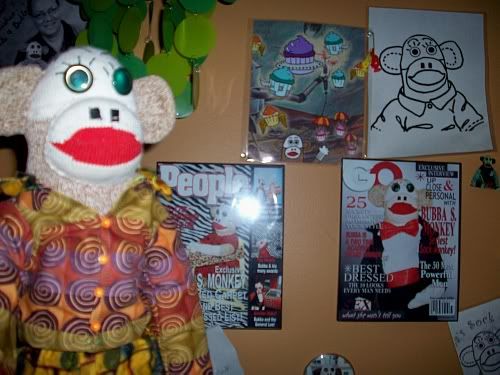 Hello Possum's once again! I'm just sittin here this mornin surffin the net for serious Sock Monkey web sites. I'm really not impressed at what I find. I was hopin ta find folks whom are serious bout their Sock Monkey friends. I have found just a few. Mostly folks who want ta make a buck! I call it Sock MOnkey slavery. Not a pretty site. I know our humans are adult people who really shouldn't be playin with a Sock Monkey ta start with. Folks think they are weird. There is really no harm in havin a little fun. Think Sock Monkey geek! Lets see a little more fun people!
We've got more rain in our forcast. S'pose ta be all week. Ya'll know what that means! Rainy day fun with your Sock Monkey! Follow your Sock Monkey around with a camera. Get wild and crazy with it!! Then post it on a web site for all ta see!
I've got a cup of Chocolate Truffle coffee in hand this mornin as I start off my day. Nothin like flavored coffee to crank your engines as ya'll all head out to work. At least it brings a smile to your face. And then some! Puts a spring in your step! You'll tap dance a little jig as you head out to your car.
Mike is comin down with a cold. He's not feelin so good at present. I heard the cough with a rattle in his chest for the first time this mornin. Please don't sneeze in my direction i tell him. I may be a Sock,but I'm nothin ta wipe your nose on. I guess thats all I got for now! Bubba