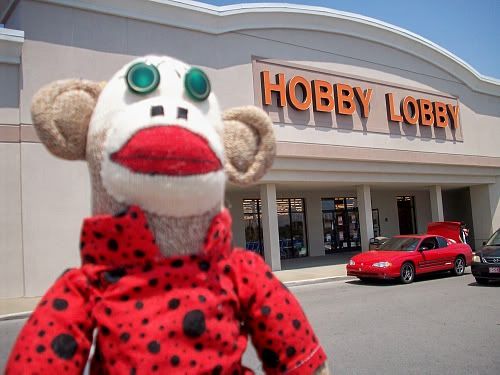 Kay Possum's! My Dad is such a nerd! There's trouble brewin when we pass a Hobby Lobby! This bein one of his favorite places to visit! I know your an artist Dad, but do we really have to stop today?
With millions of outfits in my closet, He feels that I need another one. My wardrobe deptpartment came along and picked out this fabric for my next celeb look! Cut the fabric already! Can we go?
Now here's my favorite part! Moucha latte counter! This is the clerk that made our coffee for the outtin! Woooo-who! I'll be a runnin around sock monkey today!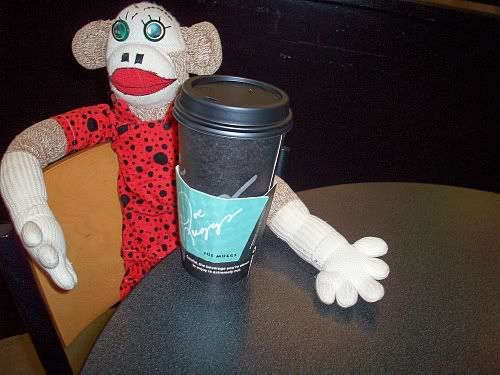 Now this is what life is made of! A good cup of joe that's chocolate flavored! A wink of my button eye to the kind lady makin it! Folks are always glad to have their pictures made with me! I love it! I sat back in my chair and was just enjoyin the day and sippin my coffee! Life is plum good!
Did I have to much coffee and now seein pink elephants? A quick wave to our Sock monkeys friends at Kia! They did approach me for their commercial back when, But I was busy and off to another photo shoot. Slap me five! $149.00 and a job and you too can rida the pink elephant! Happy Monday Possum's! Bubba out!