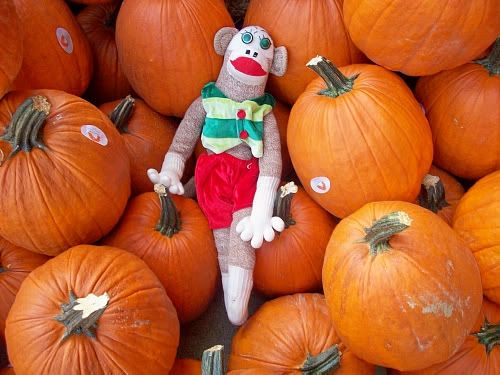 Still posin on the pumpkins! The life and times of a Sock Monkey! Is there anything better? A good Sock Monkey hug and we're off and runnin! My birthday party was fun. Sorry for the collapse on the floor,but I was tuckered out! I'm gettin a little to old to keep that kind of pace anymore. Now for some news update....
Cher has decided to leave her Vegas show. Looks like it's time for another Farewell tour! The awesome Diva was quoted saying she missed the tourin thang!

That's better than 7 Harry Potters on a busy Tuesday afternoon! The last book will be made into two movies. The first part will be out this fall! Certainly can't wait to see that! But as the story goes,it will be sad when the last of the movies has come and gone. Is there life after Harry Potter? We'll just have to wait and find out won't we? The stories have more than kept us fans entertained for years! Just grab your Sock Monkeys and take them on a trip! That's all for now!
Bubba