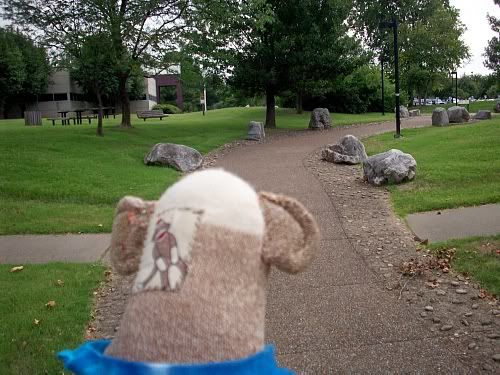 Hello my Possum's! Was ya'll thinkin I had forgotten about you guys? Not this time! You see? I was walkin down the path one day and came upon something kind of wonderful. Bein the curious Sock Monkey I am , I decided to check it all out for my Possum's and Peeps. This path looked as if there was something quite interestin to check out.
This is what I found! The Bicentennial Mall Park. A great place near by the Farmers market!
So close I was able to walk on over to the farmers market and grab this shot of a tomato work of art. Sculpture at the Farmers market! Where else would I find a giant tomato?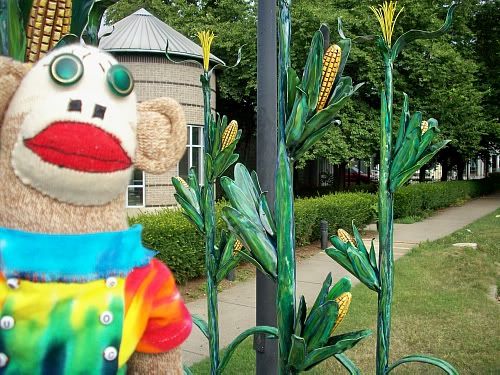 Ya'll know there's got to be a corn sculpture as well! Check it out!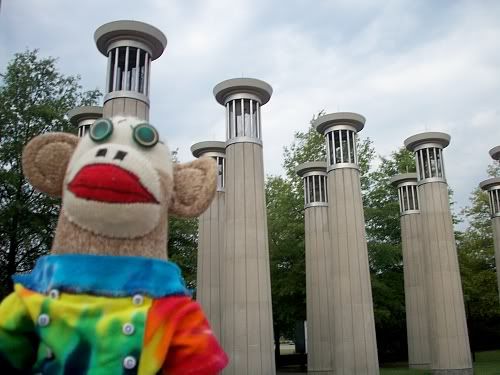 While photographin by the corn and tomato sculptures...I suddenly heard the chimes of the hour over at the park! I had to go and check it out. These are the biggest chimes I've ever seen in my life! Turns out they chime every hour on the hour. Plays a pretty chimed song and very relaxin to your park stay.
I walk on up the path through the park to see what else this curious park had to offer.
What's this? Concrete Stone Henge? Turns out the history of Tennessee is printed on the other side. But I like the Stone Henge theory better, So we'll just stay on this side. I'm thinkin UFO...LOL!
I shall sit here a spell and think upon this for a moment. Could the TN. dot Gov. be keepin something from us? Or Maybe that's what they want us to think to hide something else! Sounds like an investigation for the SCI-FI channel! Imagination don't fail me now! I'm on a roll!
Could this be the Sock Monkey sacrifice stone of long ago? I don't see any polyester fluff layin around so maybe I'm just lost in the concrete jungle!
These lovelys are left over from the temple of democracy! The capital from the 1800's! Stop it! It's not remains of Atlantis! Do ya'll see water anywhere?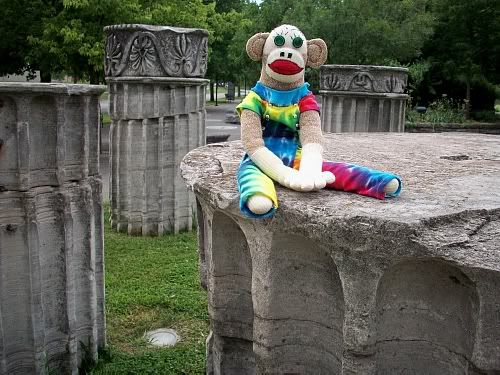 This park is the coolest thing since sliced bread! Dark chocolate good! rubbin your tummy and pattin your head good! Rollin your button eyes good! Just loaded full of goodies!
Have ya'll ever seen a marble this big?
Turns out to be the earth made out of black marble. Floatin and turnin on water. The coolest thing! It's actually spinnin.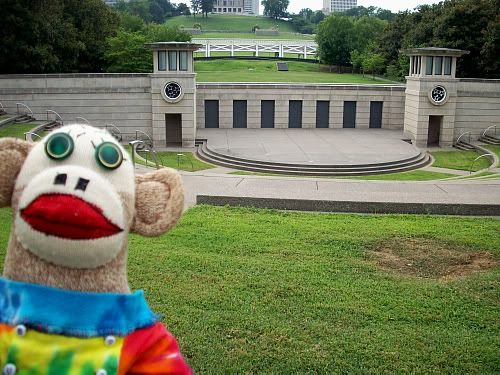 Looks like they been settin up the stage cause they knew ole Bubba was a comin! OK! Who leaked out my celeb status?
Well Possum's...That about covers the park by the Farmers market! Hope you've enjoyed your visit and it's time to close The Sock Drawer on another day! Peace out! Bubba