I was a sitting here wondering why after 5 years of living in Nashville,Is Canntrell's Bar-B-Q Still on my list of things to do? So Mike and I got in the car and headed on back down there! Time to scratch it off the list!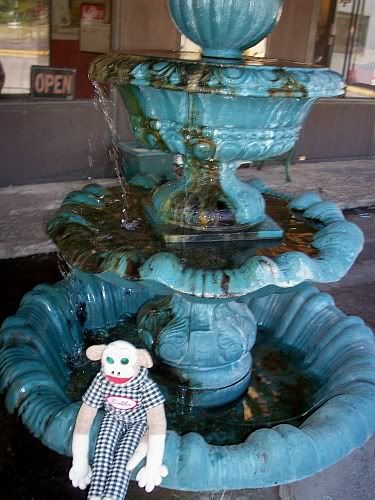 This water fountain just a waitting on Old Bubba to sit a spell and enjoy this beautiful blessed day! It gave me a chance to ponder what's on the menu.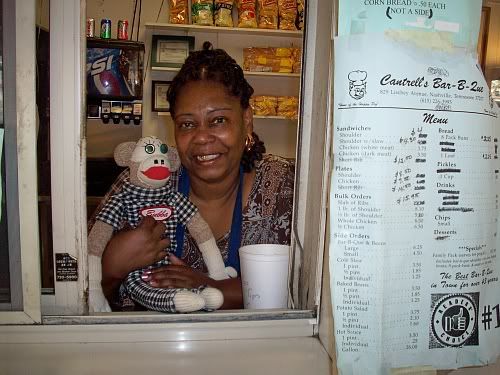 This lovely sweet Lady was all to kind to help us and join in on the photo shoot of Mike and mines lunchen! The sweetest Lady you'd ever want to meet!
She even offered me bananas! How sweet is that!? But this Sock Monkey was after the Bar-B-Q! So I politely order the shoulder sandwich which came with Lays potato chips and water for the sum of $5.46. That included state tax as well! Cain't beat that!
I pulled myself up a chair to chow down on some Bar-B-Q goodness! WOW! Was it ever so good! So good it brought tears to my button eyes! Lunch never tasted so good.
And for dessert,I was eyeballing the Nanner pudding! Mike and I were to full to eat another bite. So we passed on the dessert fabulosity! If my Possum's want to know where to find this grest eatery, It's on the corner of Cleveland street and Lishey Here in Nashville! I'd say it's time for a Sock Monkey nap!
Bubba