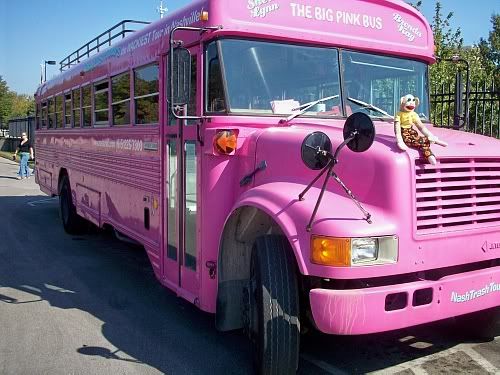 Good evenin Possum's and all around roadkill! Have ya'll ever seen a big pink bus before? Well ya have now! I just knew my Possum's couldn't make it through Halloween without seein this! It was to good to pass up!
The way I see it? It has to be hers! Pink must be the new ornage! What a weird Halloween it'll be with all this pink!
Here's another thing that happened to me today! Remember how I said the Pumpkin pose was canceled for this year? I decided to head on over to the farmers market to walk around for the afternoon.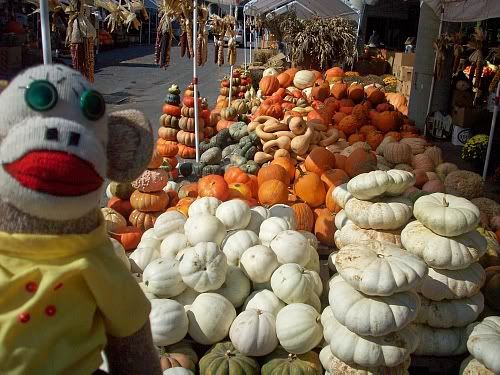 I walk into one of the buildins when I arrived and found the entire buildin full of every kind of pumpkin ya'll can imagine! I mean really! Isn't that always the way it happens? Ya think ya could cancel something if ya want to! But fate had another plan this piticular fall afternoon.
So I'm gonna just roll with it and have that pumpkin pose! Here it is! I mean it's perfectly provided for me!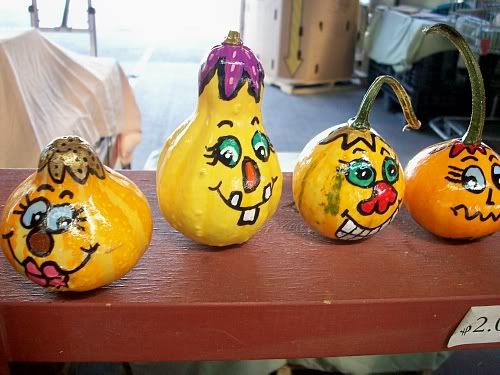 Didn't I say they came in every form ya'll could think of? Painted faces on a Pumpkin? What ever happened to folks carvin'em?
Fat pumpkins small pumpkins of every shape and size pumpkins! I know I promised the rest of the scarecrows,but when fate knocks on the door ya open it!
I bet ya'll never seen gray pumpkins! Pink bus and gray pumpkins? What's the world comin to?
I will return to my regularly scheduled scarecrow blog another time. Lot's to see on that one still! But for now...*Wink* this is Bubba's Sock Drawer signin off! Bubba