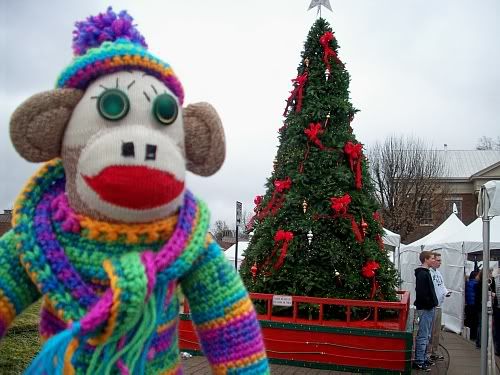 Christmas today comes from the sweet historical city Of Franklin TN.! I'm out on a rather cloudy overcast day! The temps did come up into the 50's so's it was a nice afternoon. A Dickins Christmas right smack dab in the middle of the historical square. Folks came from all over ta see such a wonder and delightful costumed Scrooge and cast. Yes....I know your next question. I did in deed get their photos and ya'll will see'em as we get into this blog just a bit more. Just be Patient Possum's and let ole Bubba tell the story. My celeb status rang true from some of the townsfolk as they loved the Sock Monkey Thang and all. I did in fact get around and talked to many pleasin Humans runnin around the place. But as I said in an earlier statement,please bare with me.
Ya'll know Tiny Tim hoppin along on his crutch,God blessin everyone he met. Ma and Pa Cratchit were all to pleased to photograph themselves along side of me. I really wanted ta ask them if the Christmas puddin was whistlein in the copper. But I remained very polite at our wonderous meetin. It was of the utmost importance that I was destined ta meet them in my sock time! I also wanted ta tell Tiny Tim to run down to the corner and buy the biggest turkey hangin up.
The horse drawn cart would drive ya'll around the square for $2.00. I chose ta walk cause I didn't want ta miss a single thing. The Christmas spirit filled the air as carolers sing on one street corner and the next was the river dance. Girls jumpin around with their arms stiffly by their sides. Curly wigs bouncin to the high heavens and I don't know what all! Two young men up the street just a ways,playin their trombones all dressed in period clothin. The top hats were a tippin and wishin a Happy Christmas to whom ever they passed.
I met this young lady in one of the booths. She and I struck up a conversation while we were photographin together. She Stated she was from North Carolina and was here Christmasin with our Scrooged cast. I didn't catch her name,but wish her a merry Christmas and all the blessins for her and her family. It was a joy speakin To her.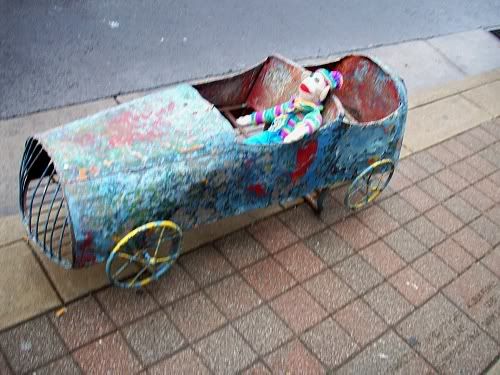 I got plum tuckered out and had ta sit a spell. This little metal car a settin out on the sidewalk. I guess they knew I was comin and wanted ta make sure I had a proper place ta sit down. Bless their little Scrooged hearts! And a very Merry Christmas to ya'll as well. The metal seat was a bit cold ta sit upon,but it's the thought that counts!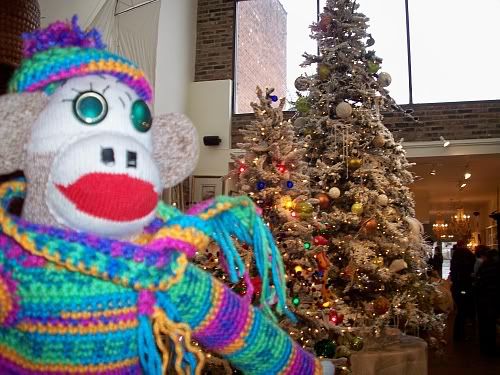 The decorations were a sight to behold! If ya'll left this affair without Christmas spirit.....well......ya just didn't need it ta start with. And if I may.....a ba-humbug! I'm just sayin!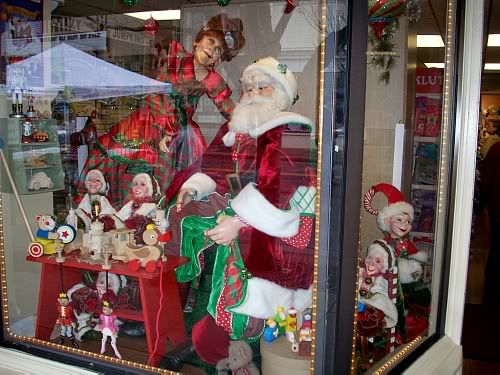 Look at this decorated store front! Thought it was a thing of the past didn't ya'll? Not true this Christmas. Jolly old St. Nick and the lot. Ya'll know the Twas the night stories and all.
LOOOK OUT!! IT'S SCROOGE! He threatened ta keep my Sockass! Be afraid! Be very afraid! I would have ended up locked away in one of his money vaults or somethin! Ya'll know how valuable we Sock Monkeys are! Good Gosh golly! Lands sakes! Runnin throught the street with me in hand! Don't make me go all Christmas ghost on ya asss!!!(insert puff of smoke here!) *Wink*
Save the Franklin Cinema! That's waht the sign read. I got it from a reliable source that the historical society has raised the monkey..I mean the money,yeah the money to restore this wonderful treasure.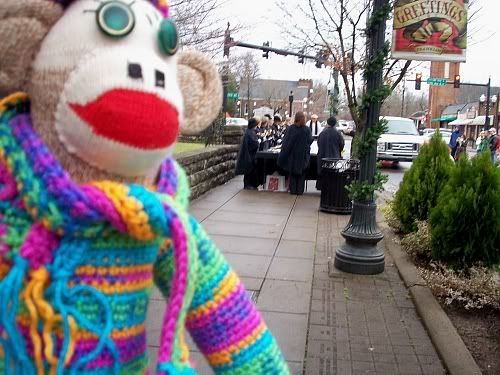 The carol of the bells concert. They were so pretty! Playin out on the street corner.
These two were only smilin while the camera was out! I know they was thinkin "brutalize Bubba"! Not happenin guys! Merry Christmas just the same....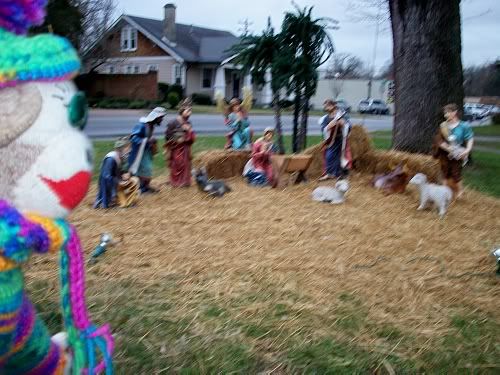 This brings us to the real reason for the season. Happy Birthday Jesus! Bubba