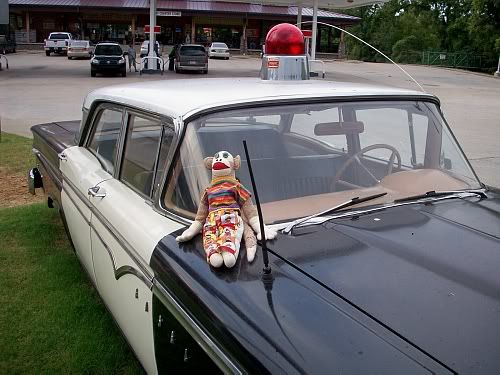 Well howdy Possum's and general sock lovers! Got another adventure to report on. It all started one fine afternoon sittin on the porch havin coffee with a couple of friends. We were sittnin there talkin and thinkin it would be a nice afternoon to drive from Nashville to Ashland city in search of a small town restaraunt with to die for dinin. On the way We found this in the middle of no where Shell gas station. Had a few cool things to show ya'll! I was sittin there waitin on Andy and Barney...maybe Aunt Bea a possible Goober and little opey! Cool old police car from the 50's I think! It just screamed The Andy Griffin show!
The Shell station was workin it with the old trackers out on the front lawn. This was a fun little stop on the way to Ashland city. Asland city bein only a 20 minute drive from Nashville, it was a pleasent drive through the country and farmland. Beautiful state we have here! A far cry from my celeb status on the red carpet...You understand Possum's.
Did ya'll ever see a Shell station with a big old front porch with an antique gas pump a sittin on it!? Sometimes ya find the darnest things out in the middle of nowhere! It made the drive very enjoyible and a cute find!
Well as the story goes...We finally made it into Ashland City and just drove around a bit looking for the perfect "What's for supper? Place". We all took a vote and decided the New South grill! Neon sign out front statin the fact It was the New South Grill. It kinda caught our button eyes and we wondered inside for a bite to eat. The grill was nicely decorated with old black and white photos of the early days of Ashland City in it's historic way. The four of us ordered our meal and continued on with our frienly jokes and iced tea sippin and just havin a pleasent time and evenin. We didn't realize our food hadn't arrived for quite sometime. It wasn't long before our waitress came around and told us our food would be out shortly. She came around serveral times to tell us it would only be a short while longer. A few minutes later...the manager came over to our table and told us our ticket had fallen down behind the chefs table. These folks put the customer service back into customer service! I know Possum's, Most of us thought customer service was a thing of the past! Not in this case! The manager brought us another apetizer (we already had a plate of fried cheese apetizer) The second one was fresh fried mushrooms (chef prepared). Our food came and we had the most wonderful dinner one could mention! I'm here to say these chefs put the word food in food network! Our waitress was one of the nicest people you'd ever want to meet. Just so friendly! After our meal we contimplated about havin dessert. Butterfinger cake made from scratch! I teased the waitress and told her the manager said it was on the house. Little did we know she o.k.-ed it with the manger and we were suckin down butterfinger cake with a side of freshly brewed coffee! Butterfingers crumpled up on top! And as a reward for the bestest customer service ever!...We award them with their picture displayed proudly in The Sock Drawer. The gentleman on the left is the Manager of the New South Grill and the little lady next to him was our waitress!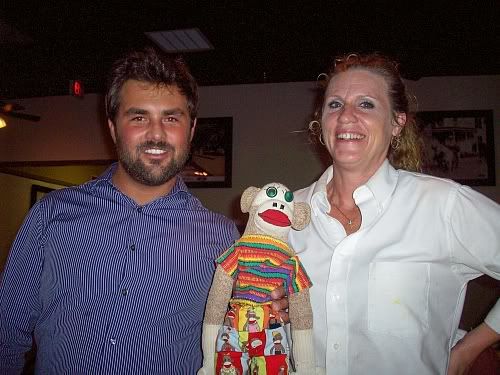 Time to close Ths Sock Drawer! Bubba