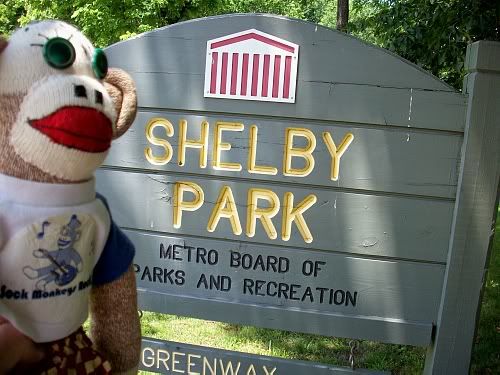 Good afternoon my Possum's!!! Todays messeage is brought to you from none other than Shelby Park! We finally got sunshine today after weeks of overcastness. This wonderful park is a few blocks from our home andwe decided to get out and take a walk around.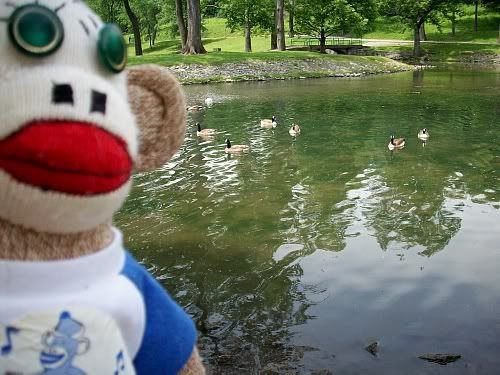 The geese are swimmin in the pond of the park! HI geese! Thanks for the pose of the picutre for me!
Can you say bridge over troubled waters? Not really, but what a fun way to look at things. Funny...I can never pass up a good opportunity for a bridge pose.
Hangin out by the water and enjoyin our sunny day!
Now this park has a fenced in area that white ducks live in and can easily enter in and out of the pond. Hey White ducks! Look! We have sunshine! They were all to happy about that!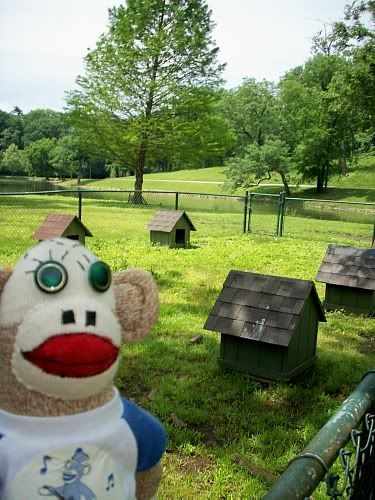 They even have little duck houses for them inside the fence. Cute little duck houses!
Looks like I have my ducks in a row!
I found a patch of wildflowers and decided to lay down and relax for a spell. This park is the life! Life is good!
Sock Monkey on a rock!!!!! Oh yeah! By the water for a pleasent park stay for the day.
The stairway to heaven. Sing it with me now.
One could look at this hole in the hill as many things. Could it be a doorway back in time? Maybe a portal into the future. Or perhaps a way to just dream away the hours in the park. It's allowed you know.
We came upon a golf cousre on our walk through the park. I did pull one of the golfers over and ask if I could photograph with his golf cart. The strange looks are the funnest! He was all to happy to allow this.
I wondered up on this babblin brook in my Park adventure. Crossed to a rock in the center and sat down to wonder where this brook was rushin off to. Don't let my imagination take off or we'll get side tracked and never continue on with my adventure.
What's up with these holes in the hillsides? Could be SCI-FI channel stuff!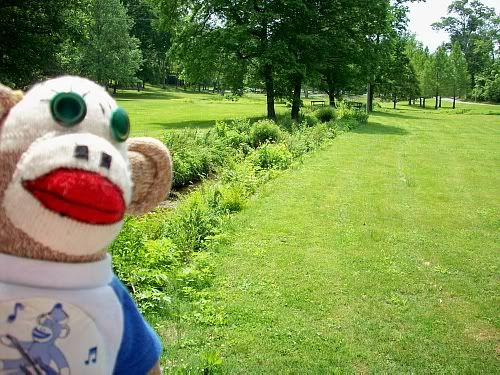 This park is just glorious and pretty picture of nature.
WOW! Nature walk wanted and excepted!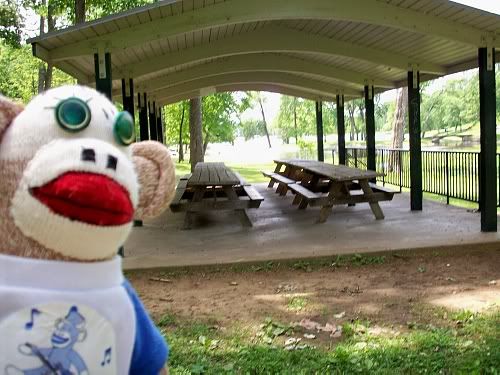 Pravillion for picnicin! I shall keep this in mind for another pretty day.
Shall we just enjoy the rest of the picture in quiet as we stroll through?
I a swingin Sock Monkey and swingin I is!
On the drive back home I spotted this fire engine along the way. I'm glad you guys came along with me for my park adventure. Time to close The Sock Drawer on another day. I bet ya'll was thinkin we here in the Sock Drawer had turned into the food network from all my Restaraunt blogs. Not true. Today was a change of plans and what a great way to spend my day! Thursday out! Bubba