Hello Bubba fans! Sorry I've been away so long! Olde Bubba has lots ta blog about over the next few days,so stay tuned, saddle up and set back! Pop a little pop corn! Now unknown to ya'll my fans, I finally got ta go to the Sock Monkey festival the first weekend in March! Wow! All the way to Rockford IL. from Nashville TN. Long 9 hour trip, but worth every mile! Smiles all around! The plain boss,the plain!
Here I am a settin on top of the Sock Monkey Madness sign! Ya'll know Bubba! PHOTO OP! Smile and pose! ACTION!
A Rockfrod postcard pose! Wish ya'll was here! Sock Monkeys all over this museum!
Got ta finally meet the folks from the Red heel Monkey Shelter! I have ta say their some of the nicest folks I ever met in the Sock Monkey business world!
The house, the owners and the Sock Monkeys! Oh yeah! I got the previlage of settin in the famous furniture!
It'll make ya'll throw your Sock Monkeys in the air! And what a colorful throw it was!
Banana man was on hand. Oh Yeah! That's what I'm talkin bout! The biggest Banana I ever did see! If it were real, I'd have peeled him and ate him! Only found a caring Sock Monkey human inside. Oh well! Smile for the camera dude!
The spotlight was on As the biggest surprise of all!
Scott, from Amazin arts (rubber stamp artist) announced they would marry at the festival!!!! That was so excitin! I was proud ta be on hand for such a glad and happy event!
She had Sock Monkeys all over her weddin gown!! How cool is this! I can tell ya'll it brought tears to my button eyes....Pardon me while I dry my eyes.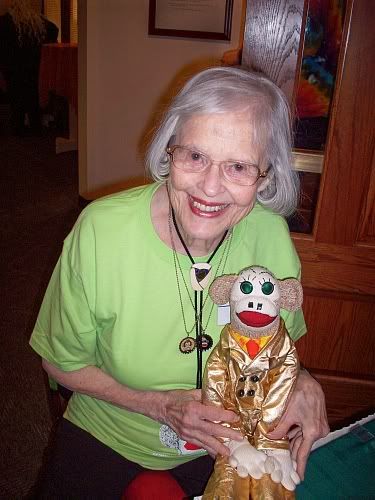 Grand-daughter of the Sock knitin machine inventor that Started us all!! I'm tellin ya'll this festival, was poppin with all kinds of surprises.
If ya'll remember when I first took a trip to the Sock Monkey museum, This is the nicest lady named Cindy! I believe she was a school teacher in the village on that trip. It was a real pleasure to see her again! Big hug for MS. Cindy!
Human sized Sock Monkey! I had so much fun at this festival!!!
The wheels are a turnin!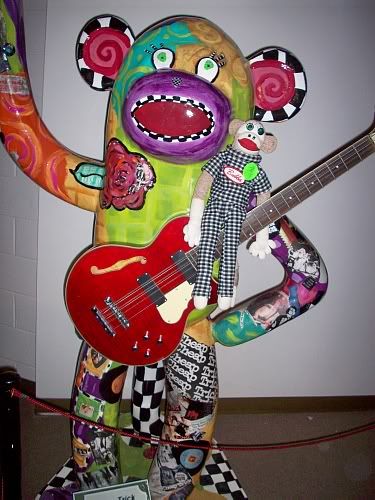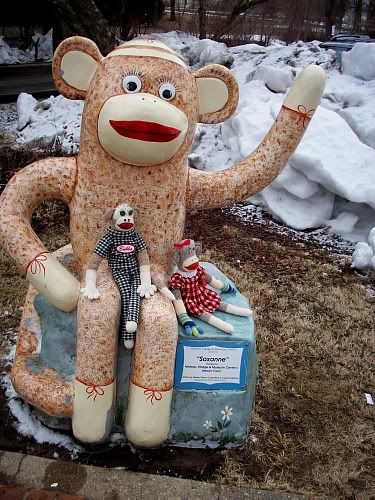 Quite a few sculptures around the place!!! Ya'll know I was workin it!! I'll add some photos in tomorrows blog! Stay tuned for more Sock Monkey fun! Later!!
Bubba