Hello summertime Possum's!! As every year like clock work since we moved to Nashville....Hangin at the Parthanon in the park! Just thought we'd get out and about on such a warm summer day. The parthanon holds our very own golden girl "Athena"! Goddess of something or another. All I really know about her is she's this giant statue in a buildin! Feet as big as our toyota sittin in the driveway! Yeah...she's a big girl.
I found myself in the stranest places on this trip to the park. We treid to look at things a little different. Some bronze guy statue about war stuff ya know. My photo manager thought it would be a good shot. He's not the one balancin over his head on his hand liftin up to a tall statue , he had to climb himself just to get the shot! Can you say arrested Possum's? So I thought I'd pose so we could hurry up and get this over with. Hurry! The cops aren't lookin! Ssssssshhhhhhhh! Your makin to much noise!!!! (SNAP OF CAMERA) Well it's about time! Now get me down from here! No! Don't run away and leave me up here!
Stone bridges over water seem to be one of my favorite shots. It bring a since. of tranquil to a Sock Monkey in the park.
Ducks swimmin around and fountains shootin up out of the pond. I personally know they will come in close because folks are always feedin them. For excitin destination info there is a island out in the pond called duck island and they really live on it. Just a little fasenatin fact about Nashville. Since the travel channel spends all it's time tryin to compete with the food network, I'll keep ya'll informed. Just a FYI...
It's a plane on a stick! I say every park needs one of these! Well I'll be dipped in chocolate and nuts!!!! Roll around for a while just feelin plain nutty! Hey! Where's the remote? I take it I'm not suppose to ask that?
I'll just sit in front of the stick and pretend it's my own personal plane comin to take me to my next celeb gig! Yeah! That's it!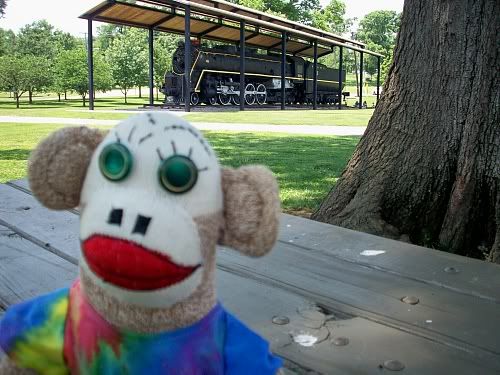 Well I'm on a train out of here Possum's! TGIF! Bubba