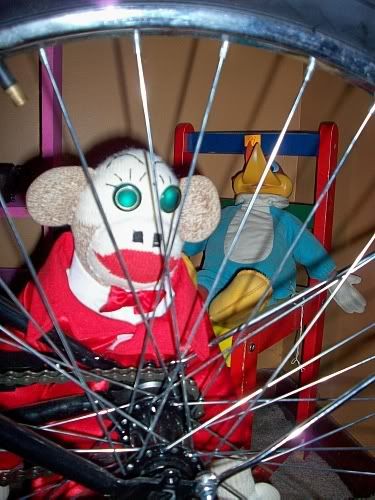 Greetins Ya'll. Yes this is my second blog for Thursday. I can't help it! I'm a Sock Monkey with a lot ta say. I was behind Mike's bike this afternoon and I thought I'd like to share some of our Teddy Bear collection. So off through the house we went with the camera. Teddy bears are there when ya need a hug from the work day. One soft squish and a smile will hit ya'll every time. They were there with us when it was dark at night and there were monsters livin under our beds in the dark. They were there with us when on Family Guy,Chris has an evil monkey in his closet. We took them everywhere we went in our young selves. Even if we had ta leave them at home,ya always had the imagination to let them be with ya. Teddy Bears have been around for centuries.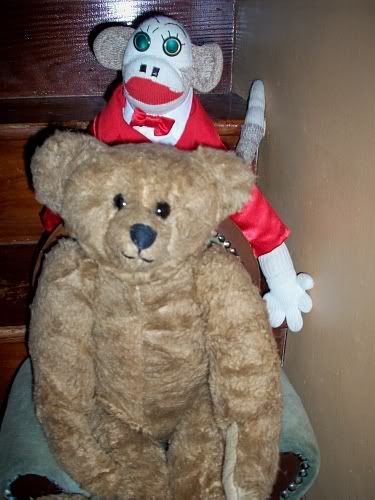 This is Mike's favorite Teddy Bear. His name is Angus. He was bought special as a Christmas gift for Mike. From an antique store. He's been with us for about 15 years. He is jointed and fully posible. He stands about 18" tall. Pretty good size!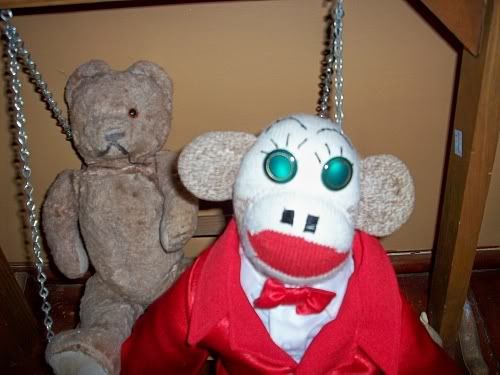 This little guy stands at 10". He's been around for a long time. I'm talkin bout a long time. Mike got him on ebay about a year ago. He is well loved.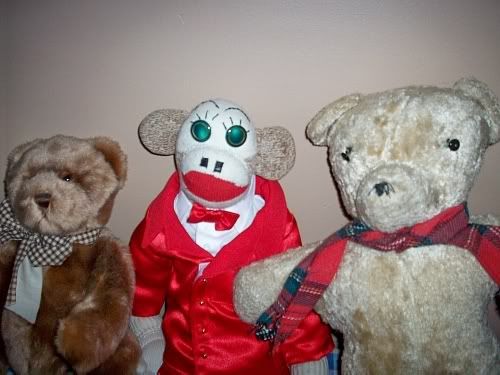 The Teddy Bear on the right was rescued from an antique store. He needed our lovin pretty bad. A face only a mother could love. The one on the left is the 100th year anniversary bear from Gund.
This Bear has been in Mike's family for years and years. Durin the 1960's,this bear belonged to Mike's sister. Mike's mother had given this bear to a neighbor. His Mother passed away and they went to take her house apart and ready it for sale. The neighbor came to Mike and told him she had this bear still and wondered if He wanted it back. Mike was so glad to get the bear back. He was in bad shape. Mike had to restuffed it. He hand washed the bear in the un-stuffed shape. You would not believe the dirt that came out of that fake fur. had to embroider him a new nose. Now he's as good as he can be in this year of 2008. Funny,Mike's sister didn't want the bear. We are guessin she thought she was to old to keep sake this treasure. I'd say after this bear has protected your life from monsters under the bed in your youth,We at least owe him a good retirement! Mike is now and will always be young at heart and treasures this bear! Mike was the one whom played with the bear anyway as a child. His sister never really cared for it. It was only right Mike adopt the bear. Mike doesn't remember if the bear has ever had a real name. That is something only Mike and the Bear can come up with.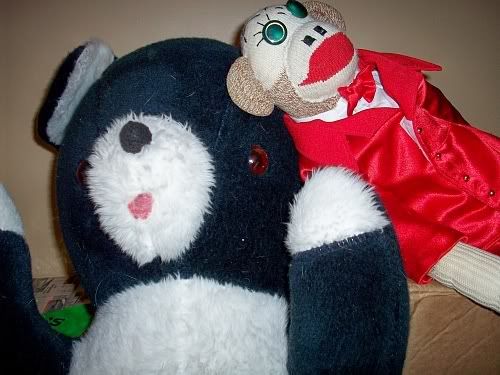 This Panda Teddy bear of the 50's has an interestin story to tell. One day Mike was on the way to the grocery store to fetch dinner for the evenin. On the way he noticed this Teddy Bear layin in the front yard of an old house. Day after day the Teddy bear laid in that yard. The rain storms would soak him. It snowed on the bear. That bear had not moved. Finally Mike noticed that the house was abandoned. He went and picked the bear up. It was wet and muddy. Mike thought, I'll give it a try. So once again he un-stuffed another bear. Took this bear to the sink. Things didn't look good for him. Mike went to scrubbin the fake fur with a nail brush. The rest is history! He is fine and well and livin here with us. We felt so sorry for this abandoned bear. Now he's as happy as a bear can be.
This bear was rescued from a flea market. With a 4.00 price tag,Mike was over to cashier so fast,all I saw was a fast! This bear only had one ear. Mike took the existin ear off and took the two pieces of fabric apart to make two ears. He then got some zebra fabric for the front side of each ear. Re-stuffed,wash and ya'll know the routine. Only the white fur on his chest did end up turnin pink from the hot water it took to get his fur clean. Opps! He just looks like a valentine bear now. Problem solved!
Happy Thursday afternoon! Bubba