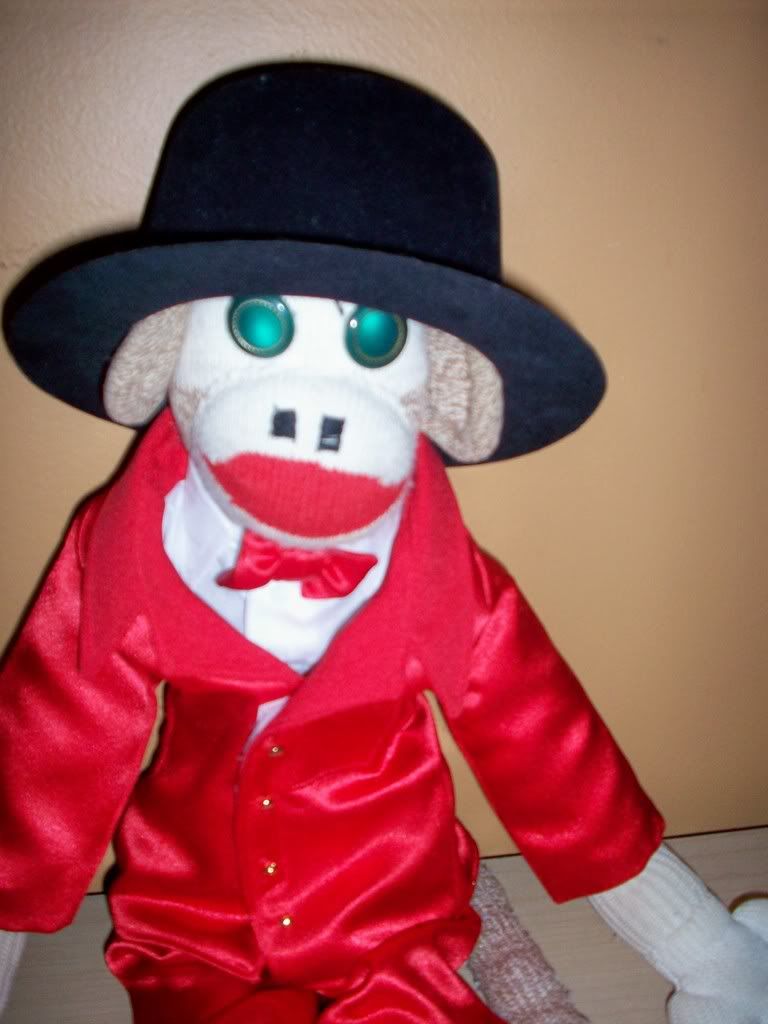 Good mornin Possum's! You've caught me playin with Charlie McCarthy's top hat! Glad to have brought a smile to ya'lls faces! Time ta party! The sun did come up today! Any other reason? It has rained the past two days here in Nashville. Good for my tomato plants!
Mike and I are tomato farmers this summer. They sure are good! Mighty tastey! Nothing like home grown tomatos! Saves us a bundle at the grocery store.
I have noticed that the gas prices have started ta come down! Road trip! Just kiddin. School is back in session,folks are back from their vacations. Gettin ready for the fall and winter seasons to commence. Four months Christmas will be here! Can ya'll believe the year has just flown by!
Close up! LOL! Ya'll weren't ready for that now were ya'll? I'm a ham in front of the camera in case ya'll haven't noticed! Sock Monkeys unite! If'fin ya'll see Mike and myself out and about town takin photos,stop and say hello! You might get your photo taken as well! Please don't ask for autographs.
These are our two Chihuahuas. Scooby and Joey. Joey is the little black one. He's about four years old now. He came to us at the age of two years. Why the previous owners named him Joey,I'll never know. Don't like it when folks give their dogs human names. Would have been cute to name him Shaggie. Scooby and shaggie! Joey was neglected,so we took him in. Gets lots of love now! And what a snuggler! He does love to snuggle. Although Scooby is very jealous. Mike and I have had him bout ten years now. Scooby came from and relationship gone bad. Our Scooby is a cross between a German sheppard and a Chihuahua! Don't ask me how that happened,cause I rightly don't know how that happened. Or that it was even possible for that matter. Apparently it is. Mike and I watched Scooby bein borned. Mike and he have been the best buds! Scooby has ta be where ever Mike goes in the house. And that's just fine. Those two are inseparable! They were meant ta be together by the hand of God Almighty! And what a wonderful blessin Scooby has been in our lives.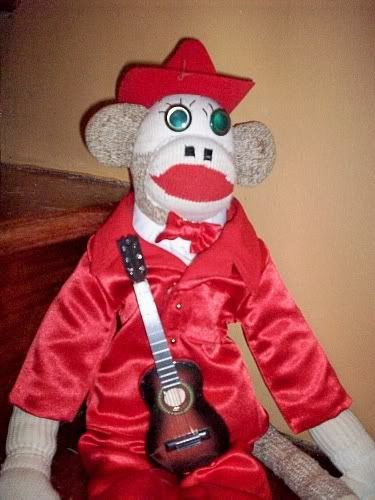 Okay! Don't laugh Possums! Mike thought it would be cool for me to have a cowboy hat and guitar just because we live in Nashville! Not funny in my book. The things I go through! Mike and I are totally rock and roll! No country here!

This is our favorite comedian! Kathy Griffin! We are always watchin "My Life On The D-List." Funny Lady.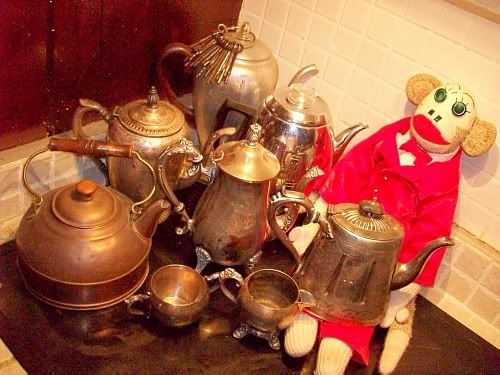 Mike is kind of a thirft store junky. He collected all these silver plated coffee pots or teapots. I'm not really sure which they are. They look good sittin in the kitchen.
This is one he bought yesterday along with the China doll. That's all well and good clean fun.
I hope ya'll have enjoyed my Thursday Holler and shout out. Bubba