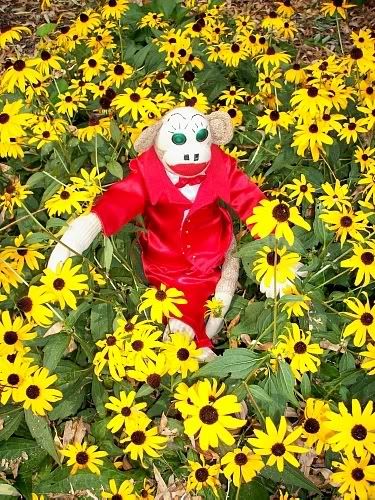 Welcome to The Sock Drawer Possum's! Allow me to introduce myself. I'm none other than Bubba S. Monkey. I have had a celeb web status for bout ten years now. I have been lookin for a new blog home for quite some time now. My human and I moved here to Nashville,TN. bout two years ago. In from Atlanta. Love the Nashville area. Mike was born here,but left when he was a baby with his parents. Mike is my humans name. I do refer to him durin my blogs. Mike found me in a flea market. That was fifteen years ago and we've been together ever since. Best buds for life! Mike takes me where ever he travels and photographs me for our ever famous blogs.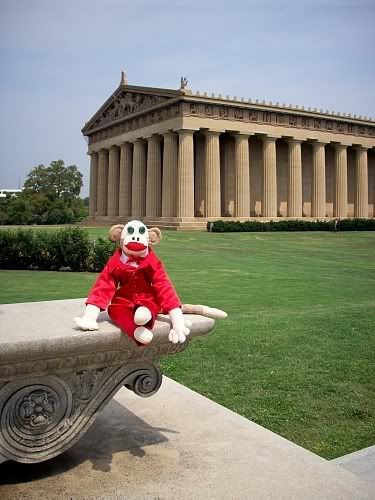 This is me at Centennial Park. We have an exact replica of the Parthonon! No, ya'll's eye don't deceive ya. Your not in Greece. Eveyone that comes ta Nashville ta see the sites always say "What the F&%#?" Yeah, I know it's a bit harsh,but it never fails.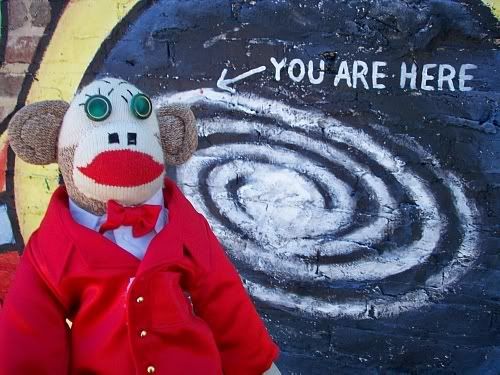 Mike is not here in Nashville ta become a country music star like everyone else. We came to see the city he were born in. Loved it ever since!
I'm a Sock Monkey with a purpose. I find various topics to discuss in my blogs. Mike and I collect old toys and dolls. We have quite the vast collection. Just today,Mike and I were walkin through the thrift store down the street and came across the most wonderful find! A China doll!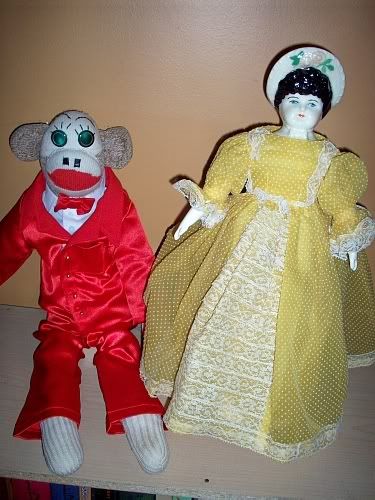 Isn't she lovely? I would say by the looks of the fabric and style of the dress,that she was made right around the 1950's. I'm guessin of course. But we are proud ta have her join the ranks of Mike's playhouse so ta speak. We love the old stuff and antiques.
Here is another example of our collection. Peteena made by Hasbro in 1966. She is in her original lime green swimsuit she came in. Complete with yellow sandles and bracelet.
Here's the thing. This is TV Jones made by Remco in 1966. Hasbro was competein with Remco when they made Peteena. TV Jones was always best in Mike's book. He received TV Jones for Christmas when he was 6 years old. Always has been Mike's pride and joy all his life. There are eight other characters in this toy line. But that's a blog for another time. I shall introduce them all in due time.
I have had my portrait comissioned. Folk art is the name of the game. I myself are considered folk art. It is amazin that Sock Monkeys have re-created themselves again in this day and time. We were invented back in the 50's. No one rightly knows who made the first one. I think several folks squabbled about it back in the day.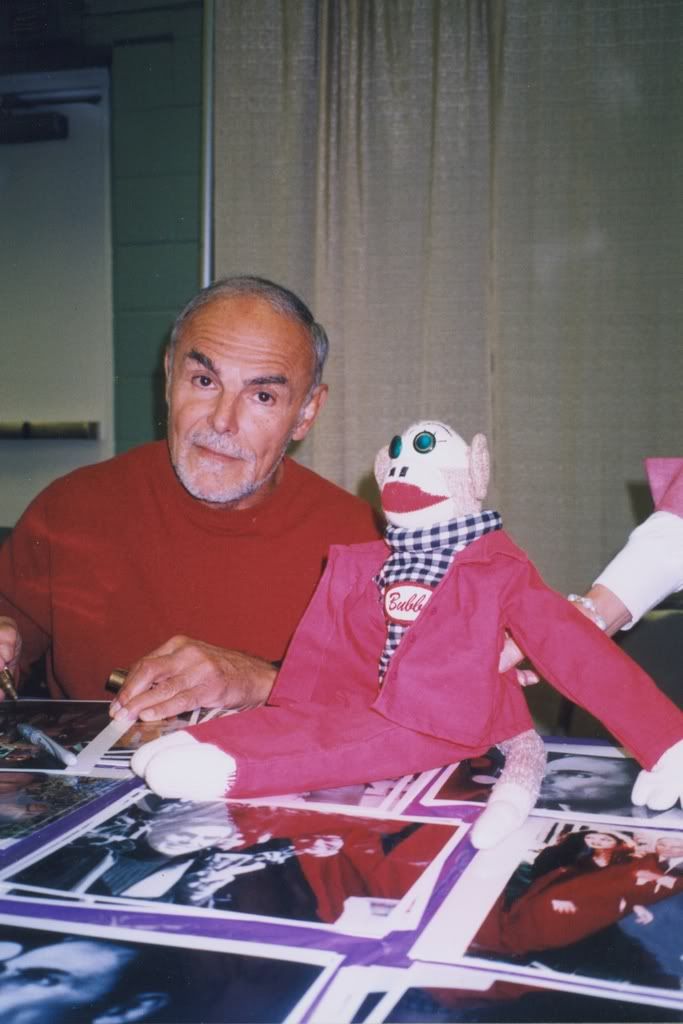 His name escapes me at present,but I met him at a comic book convention. He's kind of a b-list star back in his day. Mike and I have watched many movies with this gentleman in them.
John Saxton! That's his name. Oh,I hate it when that happens! I am a Sock Monkey afterall.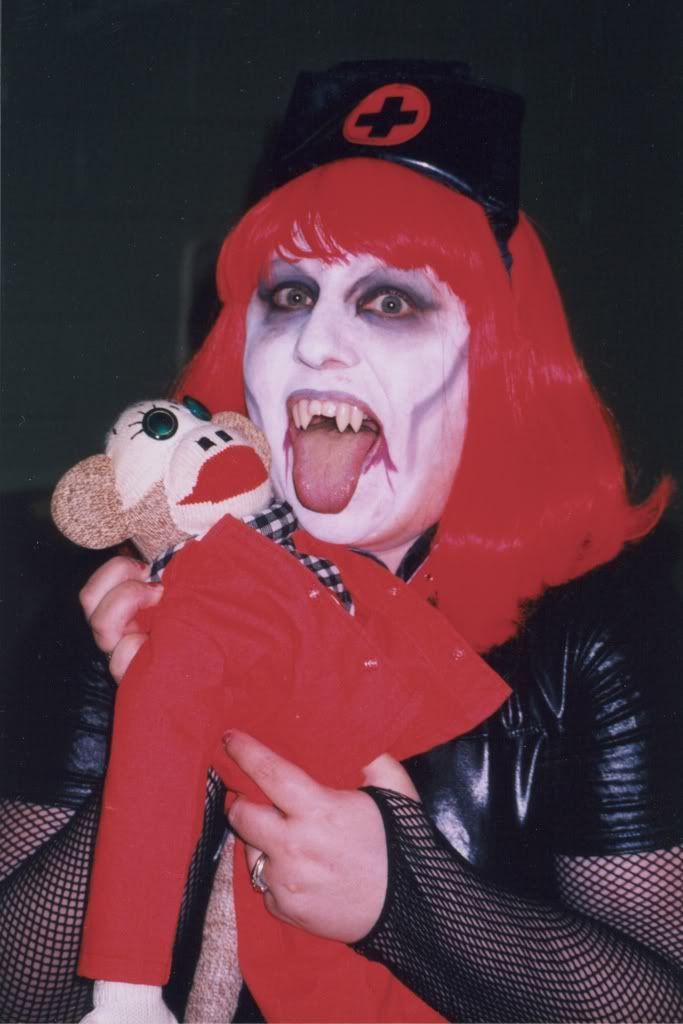 This photo was taken at the same Comic book convention. She worked at the Haunted House booth. Cool costume!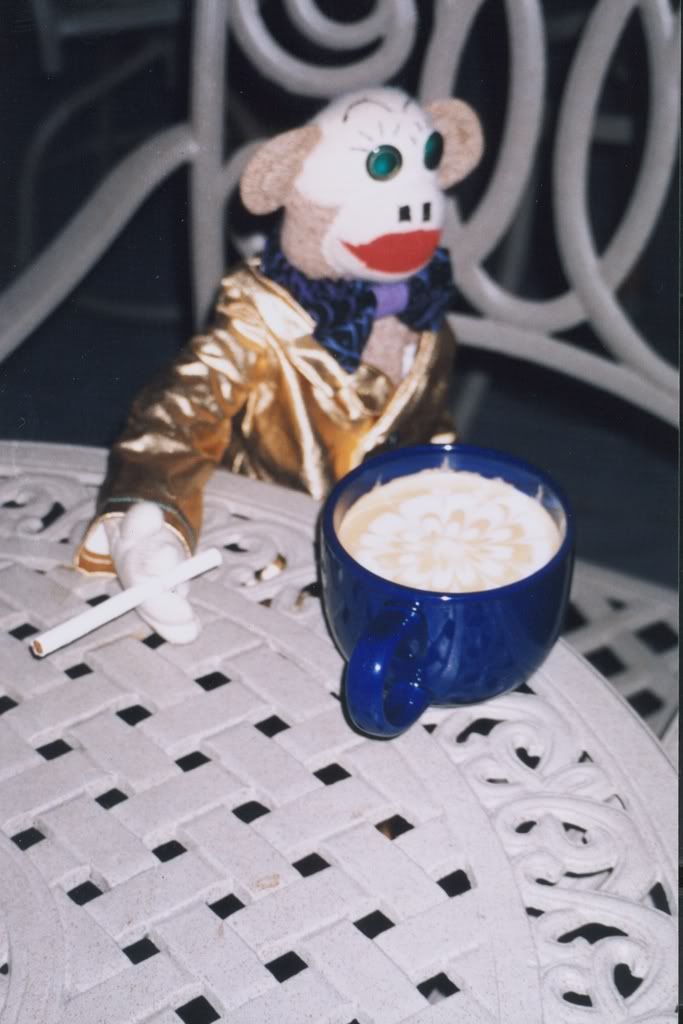 I hope ya'll have enjoyed the start to something wonderful! Bubba