Good mornin Possum's! I trust ya'll all slept well on such a wonderful fall day! The colors here in Middle Tennessee are as beautiful as an artist pallet! I ask my camera crew to take these shots so you could see how pretty it is here this time of year. I did go for another one of my walks in the park yesterday just to enjoy the fall changin colors. That and to ward off thunder thighs! LOL! (wink)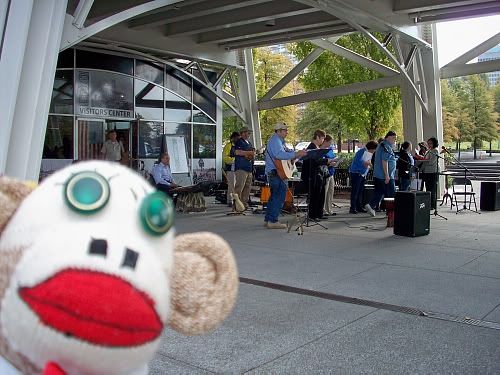 Durin my fall of color walk I heard music off in the distance as we usually do in Nashville. I wondered what was goin on this time. I followed the sound of the music to see about this curious Nashville sound. I found just under the train track where one of our visitor centers resides...Folks gathered playin and singin music. They didn't seem to be the gettin famous bunch that we find all over and in Nashville.
There was a group of ladies singin as the band backed them up with the guitars , drums and other instruments I may or may not be familiar with. Or perhaps I just didn't know how top spell them! I just decided that maybe I'm in The Sock Drawer just a little to much sometimes! But it is the way I make a livin and I do enjoy sharin the Nashville happenins with ya'll as I get out and about. This blog was totally unexpected and I didn't have it penciled in on my calendar. SURPRISE! Music's in the air Possum's!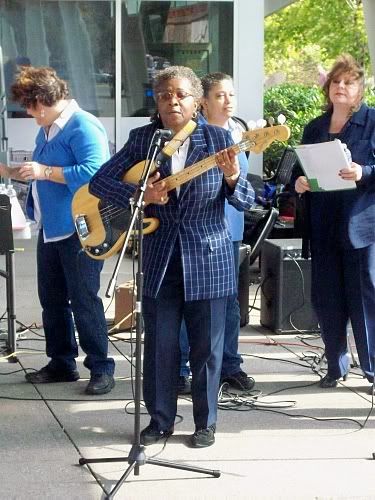 This little lady right here? She could belt it out! She was playin that bass guitar and singin her song as hard as she could go. I really started the tappin of my foot and bobbin of my brown Sock Monkey head!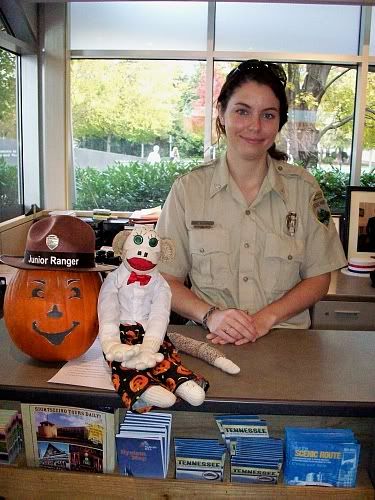 Once inside the visitor center...I quickly noticed the pumpkin sittin upon the counter and stopped long enough to chat with this little lady behind the counter. She was very pleasent to talk with and very nice. She was shocked that Bubba's Sock Drawer had Possumed her! Possum! Your it!
I have taken Ya'll on a tour of this very same visitor center before. The small confederate museum.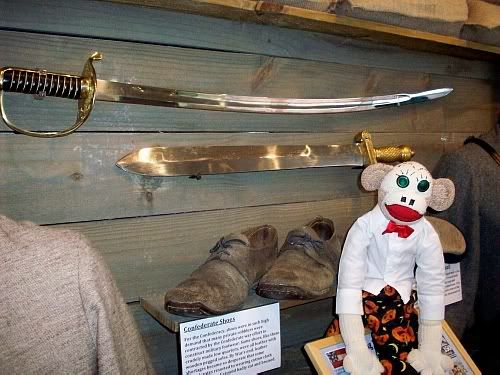 I had my green button eyes on the swords hangin on the wall! Ooooouuuuuu! Shiney!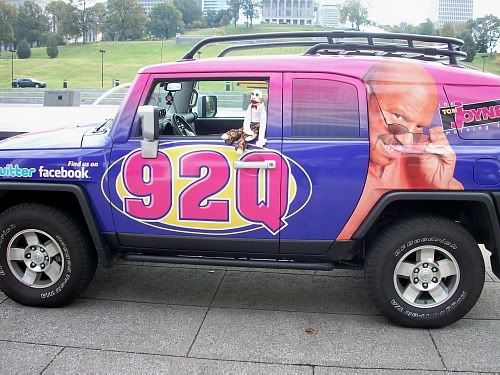 Back outside the radio truck had shown up! Bubba on the radio! The bubba-nator! yeah...but anyhoo...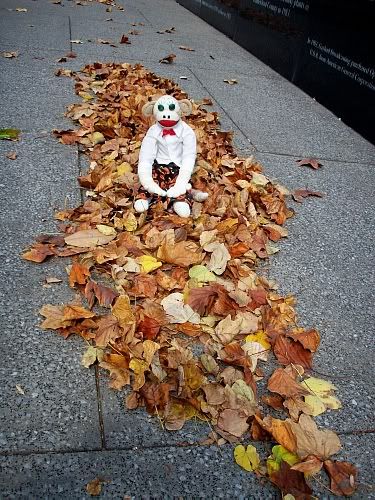 I'm Bubba Bo-Monkey sayin good-bye from my pile of fall time leaves! Have a safe and pleasent week! Bubba