The way I see it Possum's? One must view art on a full stomach! So off to the Golden coral I go! The food bar goes as far as the eye can see. I loaded up my plate with green beans, mashed potatos and baked chicken! A fresh lemon squeezed in my tea glass and I'm off and runnin with my fork to my mouth! A feelin of wonderment of what the day holds for the blog about to unfold and viewed art I would see. I've been told this art gallery is a sight to behold!
The old Franklin factory Possum's! A factory of long ago that has been transformed into the coolest art art show, sale and gallery in a factory of long ago! Love it when folks do these things.
My friend Savannah Jane and I checkin out the entrance to the place. Looks interesrtin enough.
The old stoves are what our eyes see upon enterin the factory. I think to myself...Wow! I like what I see!
Oooooouuuuuuu...shiney! And sparkley! Fancy as I wonder through this treasure trove of art work.
I stumble on a cracked door to an art studio. Ya'll know ole Bubba lookin into the crack and crevis! Maybe the behind the scenes isn't something I should be takin a peek at.
So I'm startin to see paintins on the walls and I'm sure there is lots more to come.
This one is a neet piece ya don't see everyday! I was savin this shot for my Labor Day blog, but it is to good to wait on! This flag is created from old bullets! They are painted for the Old Glory look. The scary part? Why would anyone have that many bullet shells layin around? Was it just a pile of them out in the barn and the artist was sittin around one day lookin at them and decided bullet flag them? Granted this country we can find old bullets everywhere! We can battle with the best of'em! The silver war, the confederate war and the like. I'm sure ya'll can catch my meanin! No? These bullets are much more modern. Perhaps huntin in the brush for a wild turkey to come along.
I guess I should mosey on along and see the other artist artwork. I can ponder the bullet trevia another time back home in the Sock Drawer.
And if ya'll remember the Carnton Plantation blog of last week, These oils are a pretty good look into the past of what it might have looked like back in the day.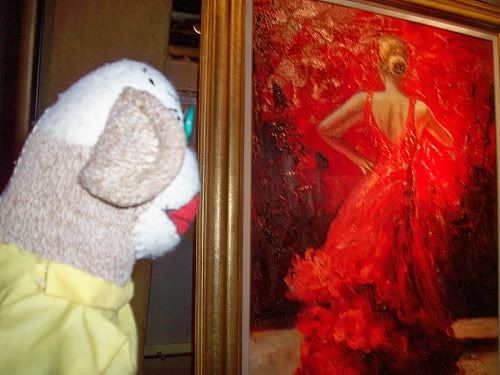 Shall we dance Lady Red?
This is one of my favroites! I could deffinately see this hangin in my Sock Drawer! At least all their noses are in the right place unlike some artist we've heard of. Yes! Pun intended! I'm just joshin ya'll.
This one here is the second pile of bullets in the barn out back!
WOW! This place is the prettiest place to enjoy art!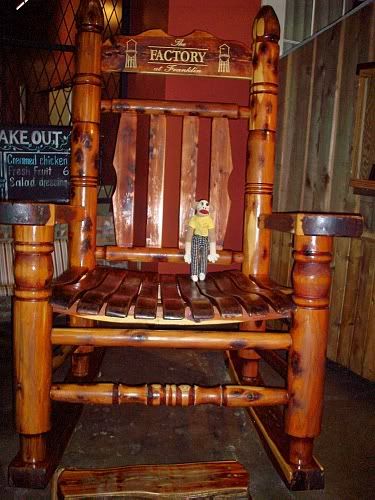 I wondered where I would encounter the biggest rockin chair in the world! I guess my wonderin days are over on that concept! More time for bullet ponder!
I got culture ozzzin out my tattoo Possum's!
Over at the Dog House coffee shop ya'll can catch a glimps of gauitar art!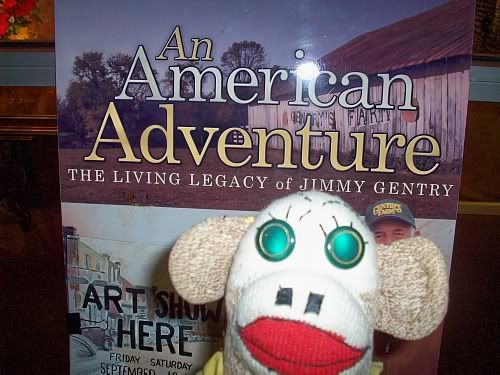 Well there ya have it Possum's! The greatest Americam adventure and remember ya'll saw it here first!
Everyone say Hi to Mango! He stopped in the appreciate the fair blog of a few weeks ago! He actually did have the funnel cake! As for now it's time to close The Sock Drawer on an another adventure.Bubba