Hello Possum's! The adventures just keep addin up! It was a perfectly wonderful afternoon with the fall time temps goin on. I thought to myself..It would be a great day to go and check out The Hermitage! Yeah! Ya'll know it's the house Andrew Jackson, the 7th President of the United States, lived with his wife and children.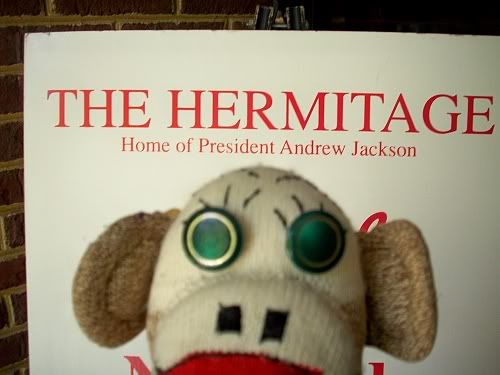 A far cry from the little plastic dude in the toilet bit.....I have to say that I was plum touched to tears when I saw the rusted out water tower in town Nashville! Someone had painted "We want more Bubba!" And more Bubba ya'll shall get! Fans Possum's. Fans from Nashville!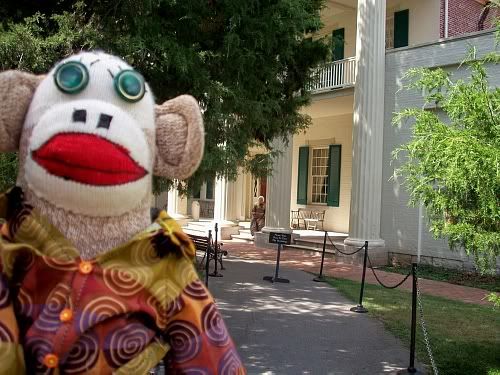 The house itself is very beautiful! All the wall papers and furnitures are original and were really used by The 7th president himself! Since the original funishins were present and accounted for....We were not allowed to bring in my camera and film crew. The back pack I rode in on had to be left at the servents quarters. The presidents already dead...but security and all. Ya'll understand.
This Possum's, is our tour gudie of the front porch! There were tour guides disperst throughout this main house. One in the hall one on the stairs, one in the upstairs hallway. Ya'll get the picture.
This is the back of the house Possum's! Two different angles!
This is the back of the house from a distance. I was walkin down the path off to the Slave cabins.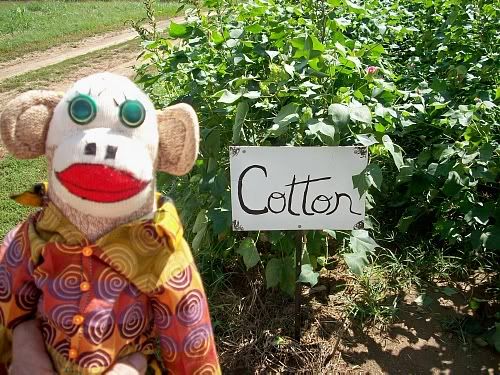 Along the way to the slave cabins was a cotton patch.
The slave cabins are all original and still intact.
These two photographs are of items found in a small hole in the floor. They hid their possesions away so they could hold onto their things.
I lay on the fireplace of the salve quarters.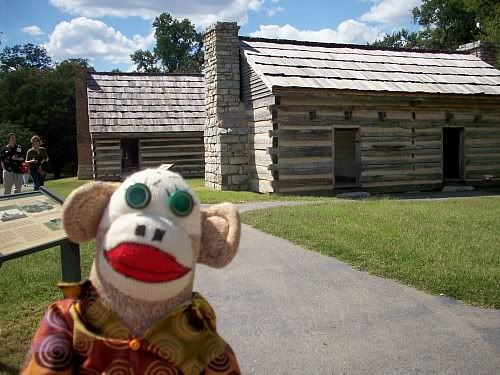 It's a closer shot of the slave quarters.
Some really cool historical things here at his house! Time to close the Sock Drawer! Bubba