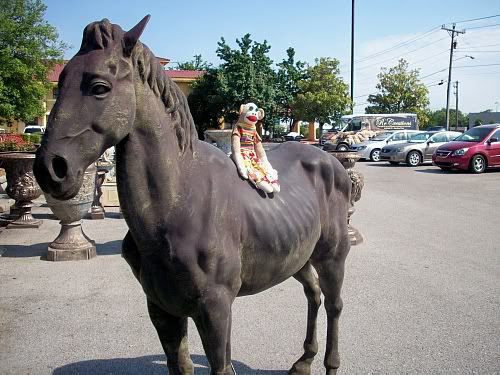 Hello Possum's and welcome to another Adventure in my Sock Drawer! And as usual it was breakfast out at Cracker Barrel. What did I find in the parkin lot of Cracker Barrel? An iron horse of course!Ya'll know my photographer all to well...Up on the back of this horse I went for the perfect Bubba's Sock Drawer photo of the day! Just how many Sock Monkeys can say they've been on the back of an iron horse before breakfast? And how many people can say they've danced with their Sock Monkey in the moonlight? Only here in Bubba's Sock Drawer will you find the silliest things on the planet! Life is simply to short to be a stuffed shirt in a tie goin off to the office everyday! So go ahead and dance with your Sock Monkey in the moonlight and kiss a pumpkin at dawn while your at it! But the real reason for a blog today is, I visited the Travelers Rest Plantation house this mornin...after breakfast of course.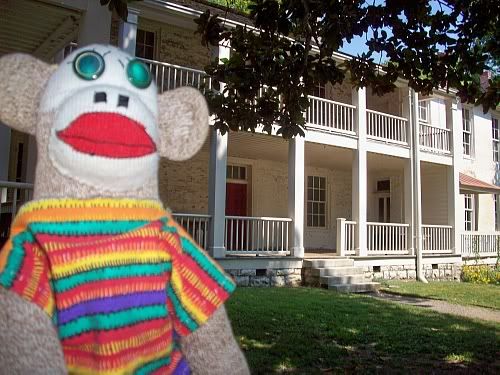 A history lesson on a full stomach.(stomach rumble) Pardon me Possum's! My sunny side up eggs just fell on top of my gravy and biscuit! Turkey sausage floatin by in the coffee I drank at breakfast! Please for give me and now back to the plantation! In the picture above you see me standin if front of the plantation house itself. Owned by John overton and his lovely wife, Mrs. Overton. Mr. Overton was 54 years old when he married the 37 year old Mrs. Overton. Kind of gross...the age difference...but keep in mind my stomach is oh so very full.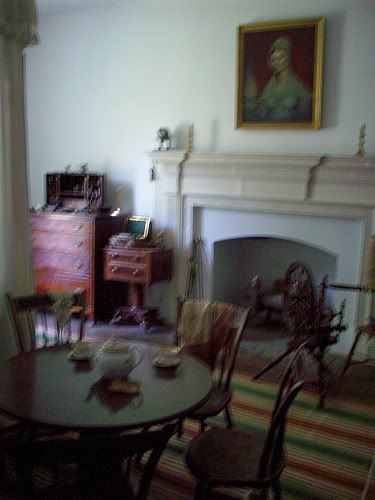 We weren't suppose to be taken pictures on the inside,but ya'll know how Bubba is! I've got to show ya'll the happens and goin ons of my travels.
opps! Another slip of the finger! Hee hee hee Sssssshhhh! Don't tell anyone.
What's wrong with my fingers today? I accidently did it again! Do enjoy the inside of the platation house itself.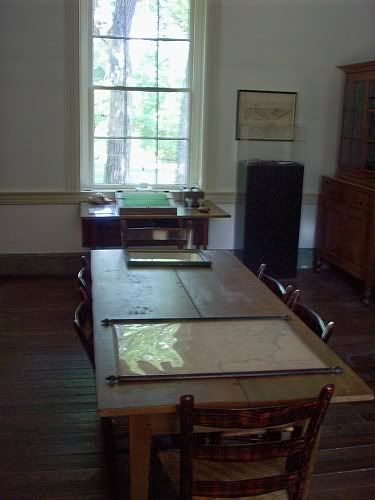 Might I be so bold to say that George Washington himself made a trip to this house back in the day! One never knows who's DNA your walkin on!
This is another angle of the plantation house. It's got the biggest porch! Where's the coffee and rockin chairs? I'm ready as a Sock monkey ever could be!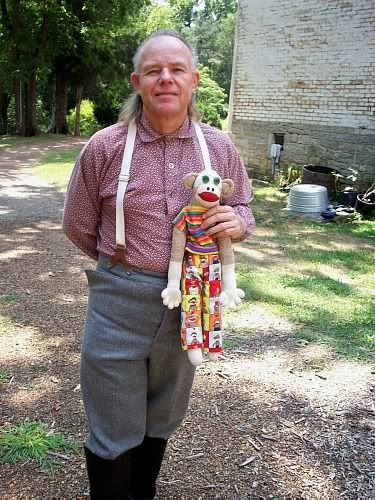 This was our host and MC for the walkin through tour and history lesson. Dressed in period clothin and boots! Wool in the summertime? There was a battle on the grounds called the battle of Nashville. There were so many dead bodies, you couldn't touch the ground accordin to our tour guide. Confederate blood watered grass. Great location for America's most haunted places.
Mrs. Overton was an herbalist,but it isn't known where her herb garden was really located on the plantation grounds.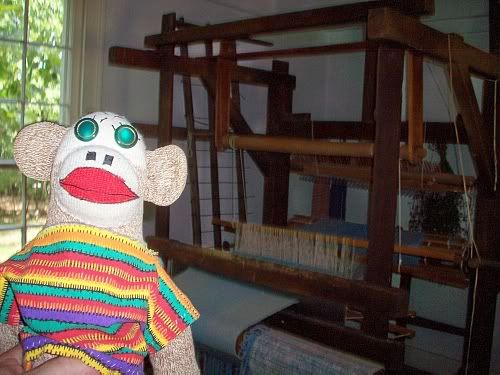 This loom was housed out in the weavin house out back. Sorry for the darkness of the photo,but once again I had to sneek it. Hope all is well Possum's and peeps We all took a vote and decided it was time to close The Sock Drawer for another day. Bubba out!