Good afternoon Possum's and Peeps! I'm a Sock Monkey on the go and on the go I am as a Sock Monkey. Last night I was sittin here thinkin I would love a different place to dine for lunch tomorrow. I fired up my computer to view some dinin spots in Nashville I've never tried. Not to mention I love to blog about where I've been. I found a place I thought I'd love to try and it was called Prince Hot Chicken Shack. The photo I view of the inside is really what attracted me to this piticular eatery. The words Chicken Shack was the second thing that attracted me to this spot. I yahoo map it and carefully write down the directions so I can find the place. Keep in mind it's a place I've never been to. I pull up into the parking lot of the Prince Hot Chicken Shack and was horrified at what I found! The place had a glass front so I could immediately see that the picture I saw online was nothing like the real place! I didn't even get out of the car. It looked like a seriously dirty place that didn't look like a healthy place to eat in much less relax and enjoy your lunch in. So...I took off to Jim and Nick's Bar-B-Q. Been there and done that, but knew I could trust I would come away with my health and a full tummy.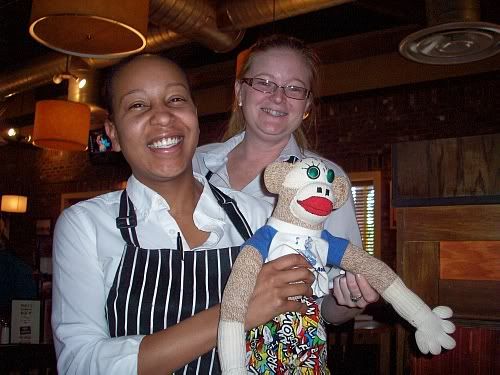 The waitresses were all to happy to care for us! The blond wasn't even our waitress. She was passin by our table when we were preparin for the shot. We invited her to join the photo! Right off the bat it was a cheerful enviroment with fantastic service! The parkin lot was full witch is always a good sign it's a good place to eat. So now I've been waited on.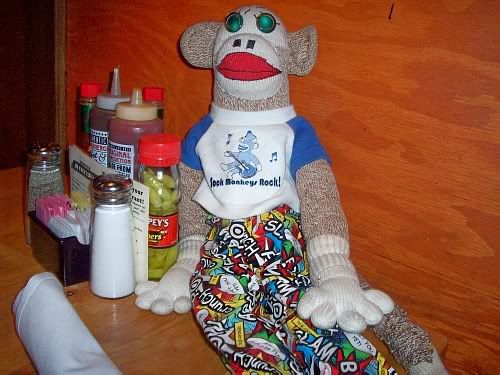 So I'm thinkin....the place is full and it might be a while before we get our food. I sat with the condiments to relax and wait. We no more than got the picture taken and out came our Iced Tea!
That was fast! Look at how pretty they arranged the lemons on the side of the glass!! Did they do this because of my celeb status or is this the way everyone is treated? I looked around and found everyone was treated the same way! This immediately gets my vote as a place I want to come to again!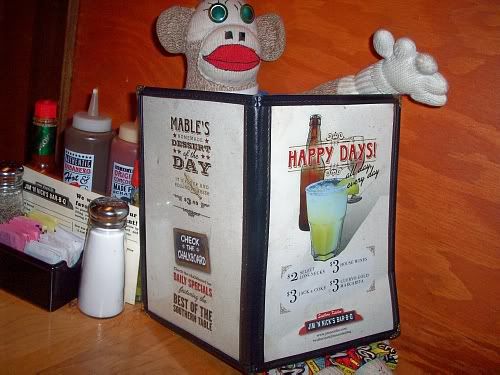 While I was waitin for my food to come along,I thought I'd check out the dessert menu. Bubba needs to get his sweet on afer a good meal!
My meal is here!!! Pork Bar-B-Q on a salad! Healthy on the outside and the inside! Yummy! Was a great visit and would recommend it to anyone comin into town to tour the country music stuff. That's the story for this Wednesday. The weather ya'll ask? It's overcast and cool. I'll close The Sock Drawer on this Wednesday! Bubba