Good mornin my sweet little Possum's! Peeps the word as I visit the Twilight convention at the Opryland Hotel Here in Nashville. The hotel is a sight ta see if ya'll ever get ta visit Nashville.
Waterfalls throughout! Like bein on a seriuos vacation! I gathered up a cup of hot Mocha latte and was chillin by the waterfall. The beauty and splendor of this Hotel is glorius!
Flowers and palm trees all around the place! take in the beauty! And eye popin purple needs the sun shades so early in the mornin!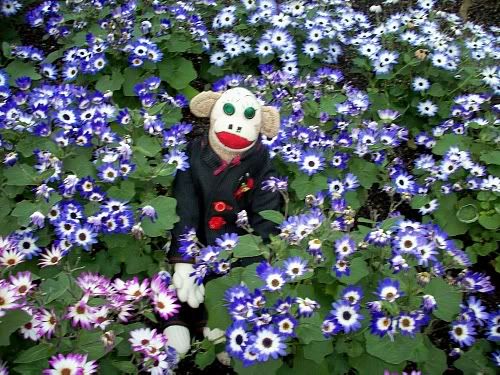 It was like I was a Sock Monkey runnin through the tropics!
This green dude was walkin around at the convention. Nobody know whys he is so green. My guess is he was tryin ta get noticed by the film people. Welcome ta Nashville. These kinds of things are always happenin here.
Waterfall mug! Can I sit under it? I think an arrest would be made if I did such a thing! I was more distracted by the hotel than the Vampire actors of the convention. I got my photo made with Charlie. One of the Vampires from "Breaking Dawn". The photo hasn't arrived yet, but you guys will be the first ta see it when it arrives.
A quick walk by the pool! Scopin out destinations for the summer! Sittin around the pool with a cocktail for sure.
This was a cool lookin plant on our walk through the Hotel. Star qualities ya know.
So many fountains! Water shoottin up out of the floor! The Hotel was very damaged by the floods of last year and has now reopened after months of repairs.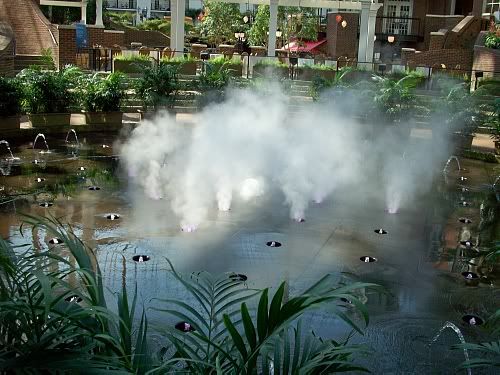 Can ya'll say Space Odessey music lookin? That's what I thoguht about when I laid my eyes on this one!
A walk through the gardens inside the hotel. With the waterfalls and palm trees I was hummin the Gilligan's Island theme. I waved to the camera on the movie star part! Here on Gilligan's Isle! LOL!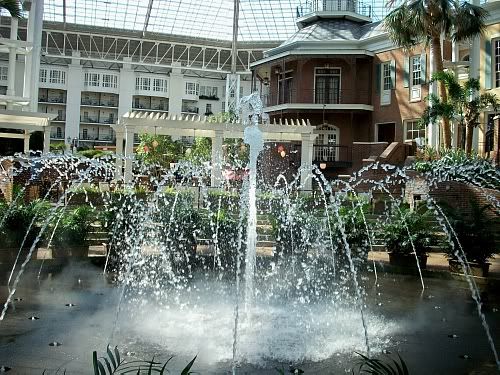 Lifestlyes of the rich and famous! I'm a folkart Sock Monkey that could get use to these settins!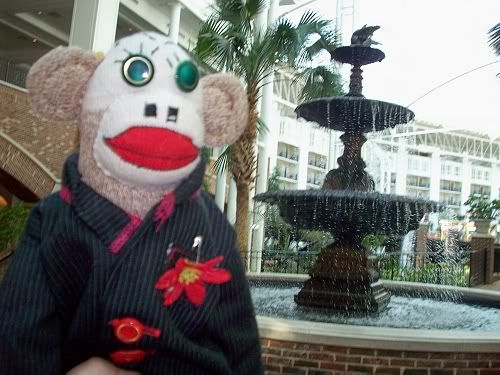 Pardon me while I wonder over to the coffee pot this mornin for another cup of Joe. (Take glasses off and looked concerned. If not wearin any fake it!) A scratch of my nose and a skip along the way!
I'm gonna go for this mornin. But I'll be back tomorrow as we continue our tour through Oprylan! Have a pleasent country music mornin! Bubba