Brown Sock salutations on a wonderful Sunday afternoon! The temps outside are magnificent! Ya'll might want to sit a spell out on the porch. Mike and I wondered over to the train track for a photo moment.
I was sittin here wonderin if a train was gonna come along and run me over, cuttin me in half. I know Possum's! Not a pretty sight ta think of on such a wonderful fall day! Now don't go sheddin a tear, it was just a thought. We Sock Monkeys can come up with a lot of strange thoughts.

On a brighter note...Remember little Winnie Cooper from the Wonder Years? Her real name is Danika Mckeller. She and her husband had a baby boy and they named him Draco. Congrats Winnie!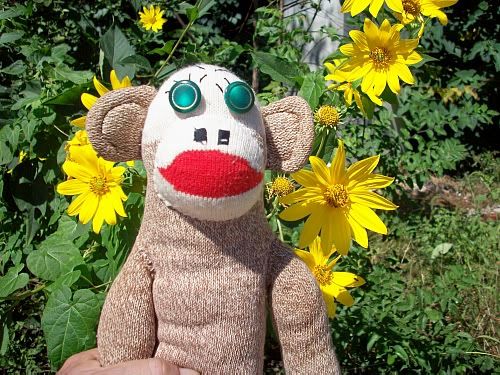 Happy Yellow Daisey fest to those livin in Atlanta.
Bubba