Well...It's Monday mornin Possum's and I kinda got some stuff on my mind bout this whole Christmas deal. Ya'll know what I'm talkin bout. Here we come a wassialin among the leaves so green. What the sock is a figgy puddin! why would I want them ta bring me one when I don't even know what it means or is? Ya'll's Bubba went online and did a little research last night. The holly and the Ivy and all. And what about mistletoe? Why would I want ta kiss my beloved under something that is a growth on something else? Really? A parasite if ya will. I'm just sayin Possum's,that's its time to question some of these so called traditions and what they really meant back in the day they all got started. For instance...the yule log for example. A yule log can only be obtained from your own land or given as a gift. The yule log itself is saved all year in the house and only burned at Christmas. It represented fertility and God's light into the world. Bet ya'll didn't know that did ya? I got a little more interested in some of these traditions and called upon a friend out in Texas to help me discover more of these old time traditions to look up. Did Ya'll know,in it's earliest forms,Gingerbread can be traced to the ancient Greeks and Egyptians. They used it for ceremonial purposes. Ginger was widely experimented with and Gingerbread is one of the results. Only rich folks had it.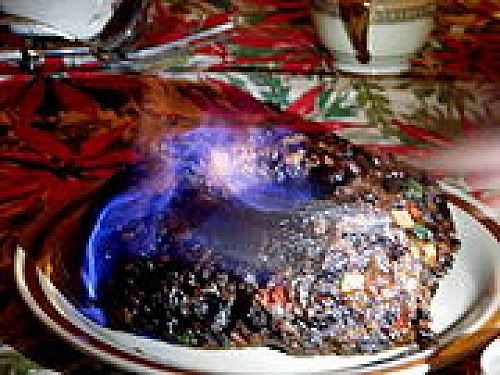 This Possum's, is a picture of a Figgy Puddin! Come ta find out it's really more along the cake lines than it is a puddin. Fruit cakish soaked in brandy and then lit a blaze! There was flamin that day. And on Christmas! My word!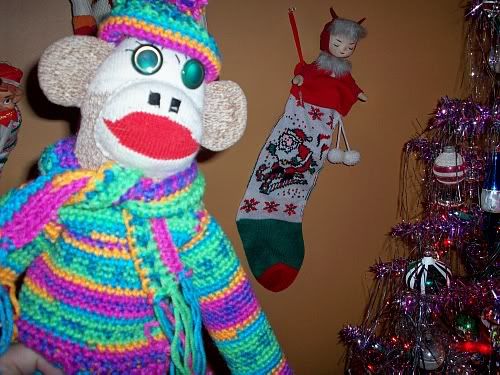 Here we come a wassailin among the leaves so green. Now Wassail was served at modern holiday feast with a medieval theme most closely resembles mulled cider,historical wassail drinks were completely different,more likely to be mulled beer or mead. Sugar,ale,ginger,nutmeg,and cinnamon would be placed in a bowl,heated and topped with slices of toast as sops.The history of kissin under the mistletoe means goin back to Scandinavia--to custom and the Norse myths:It was also the plant of peace in Scandinavian antiquity.If enemies met by chance beneath it in the forest , they laid down the arms and maintained a truce until the next day. This ancient Scandinavian custom led to the tradition of kissin under the mistletoe.
The holly and the Ivy Possum's! Holly,Ivy and other greenery such as mistletoe were originally used in Pre-Christian times to help celebrate the Winter Solstice festival and ward off evil spirits and celebrate new gorwth.Just some stuff ta make ya'll think about where all this stuff came from. Hope your pre-Christmas Monday is a happy one! Bubba