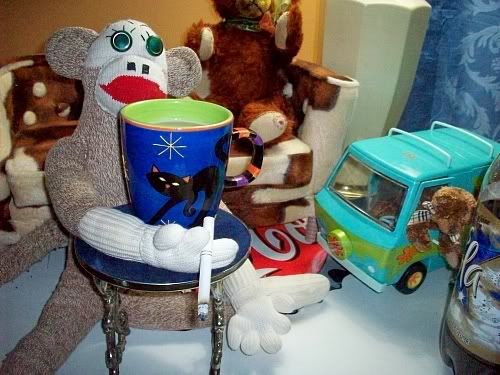 It's a cold rainy day in Nashville for the hour. I have it on good authority that the rain will be here all day. So I poured my self another cup of Java-jo and lit a cigarette. The ceramic cat mug my choice of mugs for such an ocassion. The bright colors cheers one up. I love rainy days. Sit around and watch movies on demand. Perhaps read a book. Quiet time ta be had. Just as I had promised in my earlier January blogs,I have more Sock Monkey sites for ya'll ta check out. Here is the first...
http://www.sockmonkeyranch.com/history.htm
Oohhhh....I see your ready for another.....
http://www.sockmonkeyfun.net
And another.........
http://www.sockmonkeychronicles.com/index.html
I think that'll keep ya'll busy on the Sock Monkey news out an about. The Sock Monkey community has gotten rather large in cyber space. LONG LIVE THE SOCK MONKEY! Sorry for the tarrets moment there. Forgive my intrusion.
I think a change of subject should be incerted here.....The Kraft challenge #13. Making ya'll's Sock Monkeys into lookin like your favorite celeb! I was checkin out that very web site only this mornin. Although,the URL escapes me at present. Do forgive me for that. But! I have two photos ta show ya'll from my personal favorite.
Subject?
I suppose my Possum's all know whom this is? And here is the Sock Monkey double.....
So? What ya'll think? I thought it was great!!! I always find somethin different when I'm surffin Sock Monkey sites. Ya'll should check them out sometime. That's all for now. Bubba