Here it is later this very same day.....and I'm a couch potato taday! Cold temps seem ta do that to a person. Sock Monkey,I mean Sock Monkey! LOL! Sorry bout that folks. Slipped out ta lunch on that one. Be back in 5 minutes. Gone fishin. Lost Sock in the wash kind of feelin. It twasn't pleasent. Bein all pink.....like that. Don't git me wrong...I like Humans. I think I'll keep my brown Sock colorin! But,anyway ya'll git the picture. Mike has noticed a hole in the back of my Sock head. Looks as if it'll be a patch job. I have ask him if he'll use the Sock Monkey fabric with S.M.'s on it,so's it'll look like a S.M. tattoo. He said he'd give it some consideration. Perhaps we could just sew it up and it'll look like a really bad,cool scar! Make me tough lookin! The biggest,badest S.M. ever! Scar Sock! I can see it now. Comin to a theatre near ya'll! I suppose ya'll will have to wait till the trailor comes out ta git a peek. There hasn't been any contracts come across my desk,so ta speak.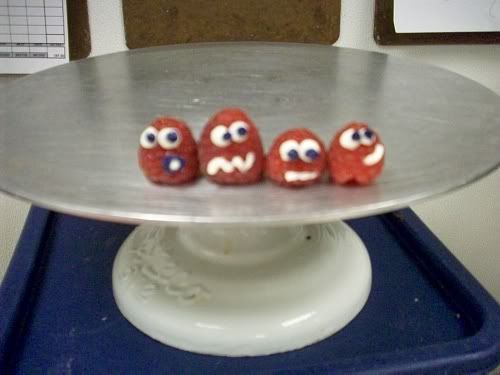 The Raspberries are here for a visit. Aren't they the cutest little things? Hey guys! And welcome to Bubba's Sock Drawer! Say Hi to the folks out in Sockland. O-Kay! Bubba's gonna go on talkin bout thangs. Ya'll just make yourselves at home and enjoy the blog. I always do love bloggin so my fans can keep abreast of Bubba's where-abouts.
Old re-runs of Stargate SG-1 on the SCI-FI channel. Great way to spend a lazy afternoon. And thanks for all your cards and letters ya'll bein concerned and all bout our TV situation. That was so sweet of ya'll! Thanks for all the sales and bargians ya'll informed us about! The new set is workin just fine and all is well. The old set was set out by the curb in hopes the trash guys would take it away. Oh the Tv set disappeared,but only for a day or so. It then appeared back on the curb all smashed up! LOL! Now it has disappeared but once again. I sure hope this time is for keeps! A Sock Monkey gits tired of the now ya'll see it,now ya'll don't kind of thang. I'm glad we had the chance ta clear all that up. Just so ya'll know...Bein a southern Sock Monkey and a gentlemen,once removed from the knittin machine. Don't make me go all Kentucky Fried Chicken on your ass. Crispy or Original is not the question. But it'll all be alright.
I'll just keep on babblin Sock Monkey goins on forever. By now TAPS has hit the TV scene. Let's look for ghost again. Fun ta hear the stories. Down at the Bradley Playhouse. Actors have reported seeing ghost in mirrors and glass reflections. So TAPS has shown up to debunk their ghostly claims. Either that or find some kind of proof. They really never have found that proof they always seek. A few things unexplained,but nothing ya'll could think of maybe bein real proof. So good for them if that's what they love ta do.
The sun has gone down once again over Nashville. Another day comin to a close. Like the grains of sand,fallin through an hour glass. Bubba