Christmas central here in Nashville! My human,Mike, took me to work with him last night and we had a Christmas night together. Being a professional cake decorator of 30 years,at holiday time puts him on over nighters to keep up with the demands of his fabulosity!
Gingerbread houses are poppin up all around! This one was done by his coworker. We won't reveal her name. But it's awesome just the same.
Along the ride to Mike's job,we encountered several light displays. We just had to stop and shoot photos of them. Now these are not the fabulous ones we want to show you,but it's a start. As Christmas progresses,we will be showin ya'll many light displays in our nieghborhood.
The chicken is cookin in the oven and smells great. Mike has lost 80 pounds on his diet and is lookin good! The light displays are awesome! Love it and is part of Christmas for us. Funds do not permit us to have Christmas,but we find ways to make a wonderful Christmas. We are blessed and share Christmas in other ways.
This is the street outside of Mike's job. Isn't it Christmasey? Love the season and all it has to offer!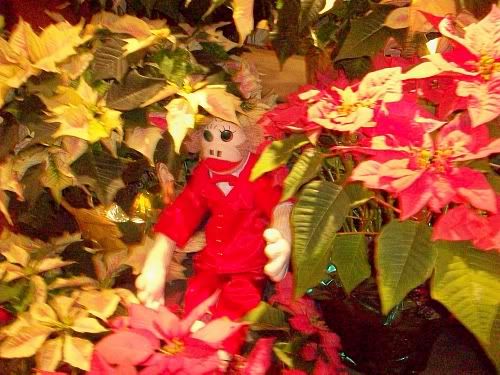 Here I am sittin in the poinsettias in the Job. Christmas in awesdsome and we love all the decor it provides. Beautiful I tell ya!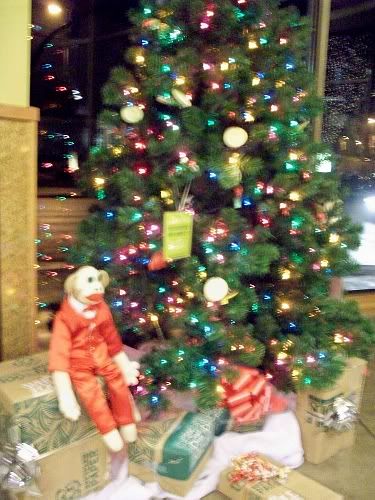 This is one of the many Christmas trees his job has on display. We just had to stop and take the photo. It takes our breath away.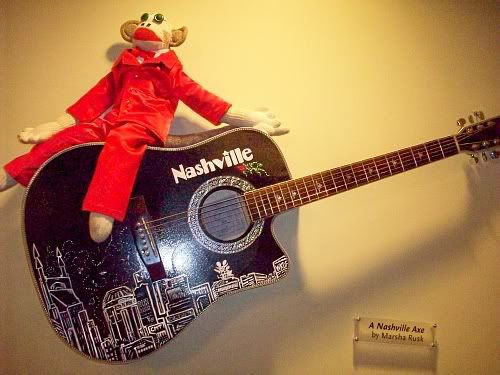 Welcome ta Nashville. These guitars hang on the wall. Artist have done their magic on them.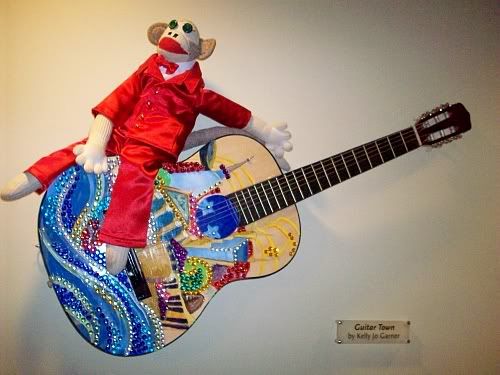 In Nashville ya got ta have the guitar bling! It would not be Nashville without it!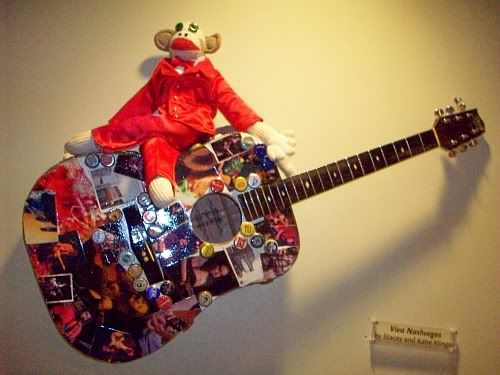 Everyone we know has a band and is tryin ta be the next country music star. Us ya'll ask? We just Sock Monkey all over the place. We'll leave the country music to the pro's.
Hey! Merry Christmas!
Funny thing bout Nashville. Today it's in the 60's temp wise,but Sunday calls for snow. Go figure!
Here I am showin my mug in the street scene ya'll already seen.
Mike had ta do 50 gingerbread men on his job. Here I am showin ya'll the Christmas treats!
This is Bubba bein all Christmas spirit in Nashville. Happy Holiday! Bubba