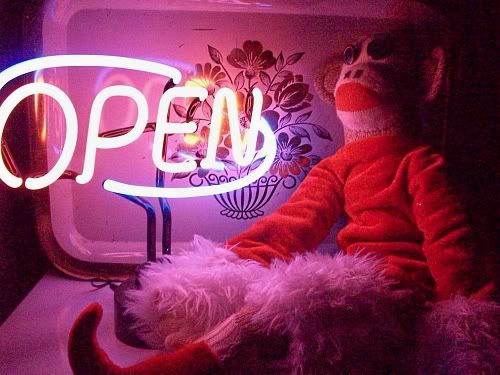 Christmas Sock Monkey and we're open for business! As promised I said I'd show off my Christmas costumes! I have ta tell ya'll it's been a wonderful Christmas thus far! So sit back and grab yourselves a cocktail and get cosy! First and formost we must discuss this crazy weather we been havin here in the Nashville area. This week has been really all over the place with the temps! One day it was 9 degrees,the next it was 20 degrees and the next was 67 degrees and at present,it's currently in the 50's! What a Christmas! What about jingle bells and dashin through the snow? I had the idea of creatin a snowman out of mud because of all the rain! It has rained all week!
Twas the night before Christmas and I decided ta pour myself up a Christmas cocktail and sit back and jaw with Jack Skelington himself! Yes,him in the flesh! Well...bone anyway,but ya'll know what I'm talkin bout! I'm a Christmas Sock Monkey on a mission. He keeps tryin ta steal our Christmas Holiday! I keep tellin him,"give it up dude." It didn't work the first time ya tried it and it certainly isn't gonna work now! Take a sip of your whiskey and your more than welcome ta come and join me by the tree. Eventhough your pure Halloween,ya can still Christmas with us. Don't make me go all Elf on yourself!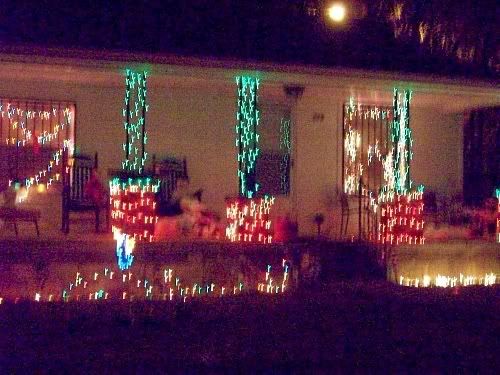 I decided ta run up the street and take a few pictures of more light displays ta be all Christmasey and all. I was runnin by this one when I snapped the picture,so it turned out a little fuzzy. Ya'll can still see the lights. So forgive me for that one.
I hope ya'll enjoyed them as much as I have. Now that we have that part of Christmas out of the way,we can really throw down some bottled holiday cheer! Ya'll know I'm talkin bout the Early Times! Merry Christmas to all and to all a good night! I can't be sure,but I thought I saw Santa's sleigh fly over or somethin! Perhaps it was a UFO,but I stopped and wished them a Merry Christmas just the same.
I just climbed up in the Christmas tree ta check the lights out and all. Not ta mention I wanted ta show off my Christmas outfit.
Mike's Bear collection is sittin by the tree.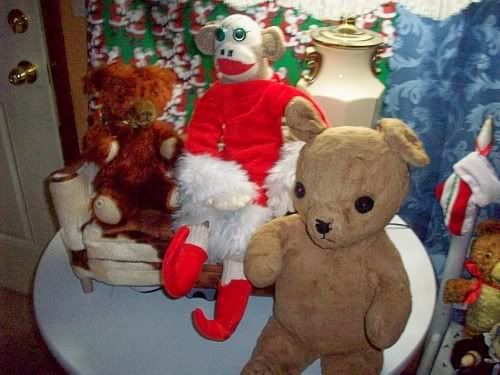 These two cute lookin characters are the newest members to our collection and were Mike's Christmas presents to himself. Personally I think they look like raindeer poop,but the more they have been dragged through the mud and run over by a truck,the better he likes them. He calls it personality! Personality shit! Wheres my cocktail?! Maybe....just maybe they'll start ta look better! LOL!
So then I wondered over to check out the Christmas Cactus. Some checkerboard chick was sittin there. I was beginnin ta wonder just how much Early Times I've had or does she really look like this? I wished her a Merry Christmas and decided ta move on.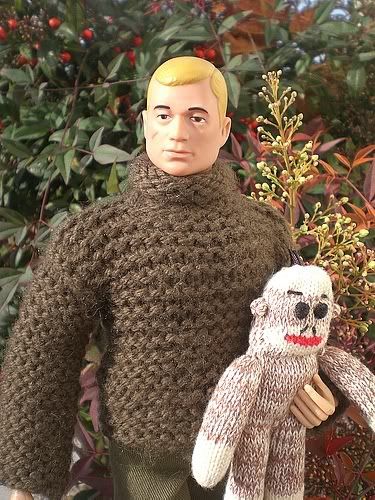 And check this out! An action figure with a action figure! G.I.Joe got the Bubba action figure for Christmas! Comin soon to a store near ya'll! 1-800-BubbaSockMonkey! If ya'll call tonight while I'm in the Christmas spirits...It's buy one get one! All for two easy payments of $29.99! G.I.Joe not included!
Now ya'll know we live in the south,right? This is the Santa suit for warm weather. Short sleeves and short pants! So what do ya'll get a Sock Monkey whom has everything? If ya'll had ta ask the question ya weren't payin attention. Can ya'll say Early Times? Let me run the picture again so ya'll know what it looks like!
Movin on to the next shot.......
So here I am with the Christmas goodies. Someone left us a Christmas package. I think her name is Miss Agnes. Mike works with her. We're savin it for Christmas mornin! She's so sweet.
Now ya'll know Mike is a cake decorator by profession. This is one of his red velvet cakes made for his customers. Mike's Christmas treats are spread across all of Nashville and share all the Christmas tables. Merry Christmas Ya'll! Bubba