Happy midweek Possum's! Mike's been eatin his salads. He's losin weight like crazy! Way ta go! He's doin very well on his diet. Been excercisin everyday.
I see everyone made it through the holiday and back to work and school. Midweeks here. TGIF in two days! So keep on smilin! This is a short week for most of ya'll. Fall is in the air. Love the fall of the year. To me it's the prettiest time of the year. The changin of the leaves and all. Almost time to carve the pumpkins! That's always fun. Messy,but fun. I wonder if there will be any pumpkin carvin contest here in Nashville this year? Would love to visit it. If I find one ya'll can sure bet I'll be Johnny on the spot with my digital camera! I will share my findins here in my blogs. That will sure be fun to display. I also know that the Botanical gardens here have a scarecrow display every Halloween. I'll try and make it out this year for the shots to share with ya'll as well. The Tennesee state fair is up and comin as well. So there will be lots of stuff goin on in my blogs this next few months. Bubba is the Sock Monkey about town.
Here is a picture of a little scarecrow doll to keep entertained in the meantime. The little scarecrow doll was an ebay find. Eventhough she is factory made,she still has the appearance of a home made doll. Mike loves the old rag dolls. His Grandmother use to make rag dolls. She kept a shoebox under the bed that contained two little rag dolls he played with all his life growin up. Their names were Molly and Polly. They each had a complete wardrobe of clothes. It was always a treat to visit Mama Lockie's house and play with the little dolls. Mama Lockie was a very talented woman. She painted pictures and had them hangin all over her house. And she loved collectin pretty dishes. Mike takes after her in the artistic world.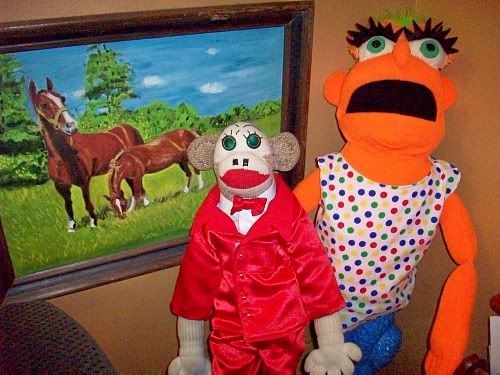 The horse picture was painted by Mama Lockie. Mike has kept this picture safe all his life. Has treasured it!
Mike love these old silver plated coffee pots. He finds them at the thrift store for a couple of bucks. Has a small collection of them. The more tarnished they are the better he likes them. They have character.
The IPod mike ordered from overstock.com has yet to come. UPS has been here twice and Mike has missed them. Hopefully they will bring it today and we will receive it. Sometimes UPS can be a pain in the butt! They won't leave it in the mailbox,Mike has to sign for it in person. He tried to get them to do so by fillin out the little yellow slip that they leave,but to no avail. The next yellow slip he got said he had to sign in person. That sux! Maybe we'll have the luck on our side today. God will take care of us. Have a great Wednesday! Bubba