So, my Possum's....Bet ya'll are interested in findin out how I spent my afternoon. After the roach chasin China Buffet lunch , I decided to take a serious look at my tomato plants and the plantin of them. This year we decided to grom them from seeds. The last two years we planted them , well...they did not even produce a single tomato!
Here they are in the purple pot. With a waterin can in hand I was a spyin on them. I might have sneeked up on them , I didn't want to scare them into not producin this year. They would have wilted their little hearts out with fright! I hear ya'll laughin at the very sight of me hangin from the top of our shovel!
The tomato transplant went off without a hitch and the cage has been placed for perfect growth pattern. It may just be a spect in the dirt now ,but in the comin weeks it will raise on up to footage!
In the mean time It's a jungle jym for me. Climb Sock Monkey climb! And climb I did as if my life depended on it.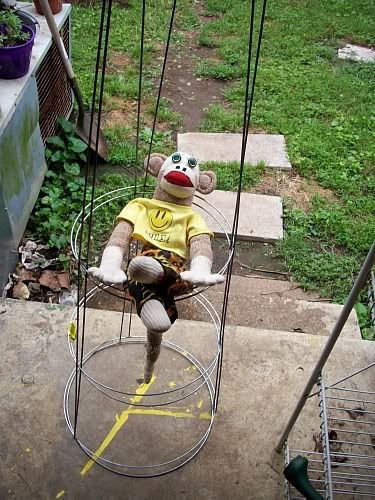 These tomato cages can be purchased down at the local Wal-mart. The rain mist did stop long enough for me to get that one in the ground. Go ahead and rain on that little booger! Good afternoon Possum's! Bubba