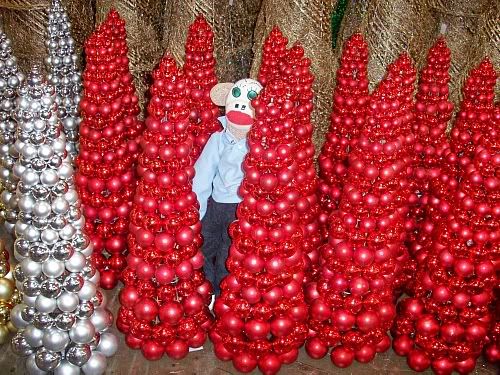 Must be something important going on down by the river tonight! We're seeing amazing fireworks in the night sky! Gosh!

Lansakes

alive! You'd think it was the 4

th

of July all over again. Was an enjoyment just the same. So...Good evening my Possum's. Hope

ya'll

enjoyed the photo blog of earlier. My Dad and I went around to find Holiday decorations. Photo op! Christmas being a

peticular

favorite of mine...I saved it for a separate blog all on it's own. This first picture you see up above is one of the good ones I liked. I believe this was at Old Time Pottery. They had some really pretty stuff for us to look at. The point of taking pictures in the stores is so we can enjoy the decorations without the storage in a closet at home. Without spending a lot of money to have and cherish them. Cause each and every year there will be something new of interest.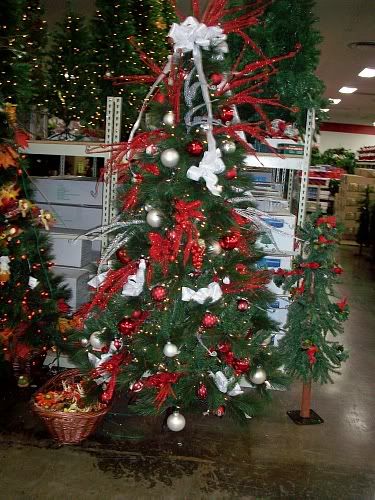 Look at this beautiful Christmas tree. Didn't have to put it up or take it down. How easy was that? And still got to enjoy it's

wondrous

beauty! I know what your saying Possum's and Yes we do have a tree that we put up every Christmas season. It goes up the day after Thanksgiving and stays up till the day after Christmas. Sometimes we even take it down Christmas day because by that time,we're tired of it already.
Look Possum's! A Sock Monkey sized sleigh! Dashing through the snow and all! well...mud in our case here in the south. It was better than

spaghetti

taco's! Yes these really do exist! Started out as a joke on Icarly show and turnred into "it's what's for dinner" kind of thing. Read that on Yahoo this afternoon.
Carolors? Really? Ya'll want me to sing? Sorry Possum's. Not in the mood. I still got to get through Halloween. Got some pretty fancy footwork photoshoots coming up soon. Got the costume all ready and I'm always in the mood for Chocolate!
I've heard of the goose that laid the golden egg,but a golden reindeer? What does he lay? A Fabrache egg? I was wondering if I sat here long enough, if I'd turn into the golden Sock Monkey? That didn't happen at all!
Have a wonderful and pleasent evening from Bubba's Sock Drawer to yours!
Bubba