It's a 20 degree mornin here in Nashville Possum's! Cold enough ta make ya slap your Mama and walk around in combat boots. And while I'm at it,I'll just run with the scissors,sniff the glue and stick my tongue to a metal pole in sub zero temps! It really was a triple dog dare after all! F*U*D*G*E........Only I didn't say fudge.The Queen mother of swear words! The F_ _ _ word. And if your not careful,you'll shoot your eye out! OH NO! I shot my eye out! Or Button or something. But anyway its' all bout the tinker toys!So how doo Possum's! Welcome once again to the bloggins of Bubba's Sock Drawer and a Merry Christmas! I can certainly see the season commences and a joyous feelin is a comin over my sock self. I guess the Christmas spirit has finally arrived! Walkin around hummin Christmas carols. The lights on the tree are certanly pretty as we sit in the dark each and every evenin. Mood lightin for the season. Now...as most of ya'll know,Mike is a cake decorator as a profession for many years. Yep! And as ya'll guessed it,He did creat a Gingerbread house for display.
Isn't it the prettiest thing ya'll have ever seen? So holiday-ish! Don't know why anyone would ever eat gingerbread. Plum nasty if ya'll ask me. But it does make a pretty display for the holiday festivities.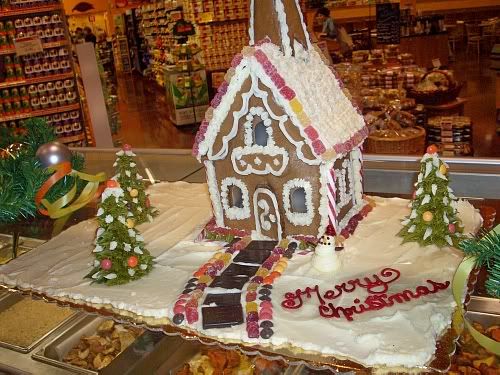 Here's to a frosty Sunday mornin as the Christmas music fills the air over the radio waves. Merry Christmas from your ole pal Bubba!