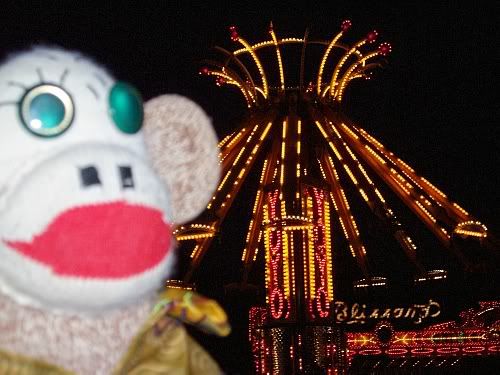 Good mornin Possum's on a rainy Wednesday! Love the rainy day effect on my life. Rainy days are made for readin a good book and carryin on with a good cup of coffee. God has truely blessed Mike and myself. Things are going great!
We will never know all the good that a simple smile can do. (author unknown)
Thats why I have been smilin my red heeled smile all my sock monkey born life. I hope and pray that it has done someone really well. Smiles are free and they always come back to you.
Last night we looked up online Stop animation for Sock Monkeys! Found some really cute youtube videos. Someone has actually done stop animation of Sock Monkeys! We enjoyed them truely. Gave a giggle to say the least. Would love to see Tim Burton do a full length stop animation film with Sock Monkeys. So Tim if your listenin........Sock Monkeys the word.
The leaves are startin ta fall here in Nashville. Looks like fall is just around the corner. Startin ta see pumpkins and mums all around out at the stores and such. Scarecrows popin up here and there. Some places have already started sellin costumes for Halloween. What am I gonna be for Halloween? Well I haven't figured that out yet. I haven't dressed up in many years. Maybe this year I will get into the spirit of the season. We shall just have to wait and see.
Hope Wednesday holds many wonderful things for ya'll! Bubba