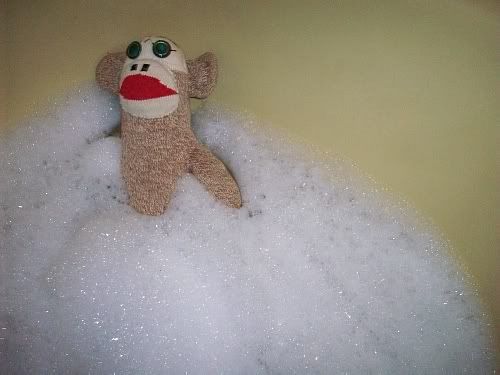 Howdy doo with The big Sock Drawer howdy! I'm just sittin here relaxin in my bubble bath of the day. Got a nice hot cup of coffee not to far off in the distance. Ya'll know it! Got a simple hint of chocolate flavor to make it one of those times of my life. And so it is. Here late deep in the night,is the best time for the comfort and relaxation. A really good time ta sneak out and egg A.K.'s house,but we won't get into that just now.
The thundershowers have been beaten down on our heads here in Nashville. The flowers out back are just lovin it. And they are growin like a house fire! Twill be beautiful for the summertime fun! Have'in cocktails out on the back porch watchin the gang activity of the area. The cops are always watchin and sometimes they make a few arrest. When ten police cars show up with blue flashin lights,it looks like Christmas! Have yourself a merry little Christmas in the back of that police car. And look at the nice new handcuff bracelet you received as a specail gift. Isn't it shiney and new lookin? I just pour myself another cocktail and sip my way ta stardom!
I got my people on the photobucket thang. Maybe we can figure out how ta get back to showin more of my pic's like the olden days. Kind of takes all the fun out of it not bein able ta share my pic's as I'd like to. I'll keep ya'll posted as the story unfolds.
By the way Mothers! Happy Mothers day! I'm a mother f-----! Does that count? Happy Sunday possum's! Bubba