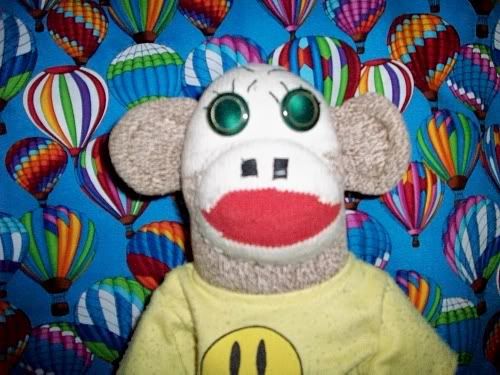 Up up and away! Hot air balloons Possums! Wow! Colorful background for a chilly Tuesday mornin. Possums,it's so cold outside,ya'll's tongue will freeze to your coffee mug even on the inside! Walkin the dogs this mornin was no picnic! Chi Chi pops! Chihuahuas get cold very easy! Bless their tiny little gitty hoppers. They have settled down in front of the heater when they came back inside. I joined them as we huddled up in close for warmth.
Sooo....now you've seen the balloon fabric behind me,what'da ya'll think? Mike bought this piece ta make me a new suit. Look pretty nazzi on my Sock Monkey self. Ya'll guessed it. From the trip ta Hobby Lobby yesterday. It was also 30% off! We decided a new set of clothes was in order. Maybe he'll get down ta makin them today. Get his designer fashions goin on up in here! I'll be sure ta get back with ya'll later if he does. I'll have ta model it for ya'll. Walkin the runway!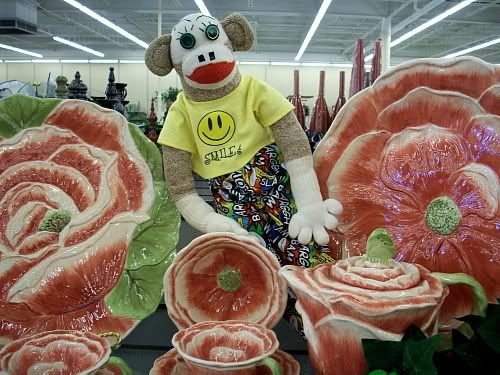 The trains are headed down the track this mornin across the street. The world is up and runnin!
Ya'll listen up. Have the best Tuesday ya'll can have! Bubba