Good mornin here on the third day of the new year 2009! There are so many people in my life that love diggin around on the front and back lawn for a world of conversation! So I picked this little number up just yesterday. Twas out back. Thought I'd be the first one ta start off the latest trash talk! Could be a new trend for me here bloggin! We love found objects that quickly find their way into our hearts and become something other than what they were originally intended for. The artist in me tells me this little broken handled mug could turn into a place to wash out brushes after a night of paintin! No drama in 2009! It's my turn! Practice what-cha preach I always say! Put ya'll's money where your mouth is! Put up or shut up!
Look what came by way of UPS yesterday! Wwwoooooo-wwhhooo!! We have TV once again! The old one broke down! Had ta wait for the funds to come along! This year is gonna be bigger and better! The blessins have already started comin in! And what a welcome sight they are for my Sock Monkey eyes!
I have decided ta start sharin Sock Monkey websites for those who were always wonderin and didn't know where ta look! The first URL is as follows;
http://www.sockmonkeyworld.com
I was up early havin my usual mornin coffee and checkin out the coolest sites and compilin a list for ya'll to enjoy! Here's another good one!
http://sockmonkeyrejects.com/index.htm
That'll start ya'll of and I hope ya have a good time lookin at them.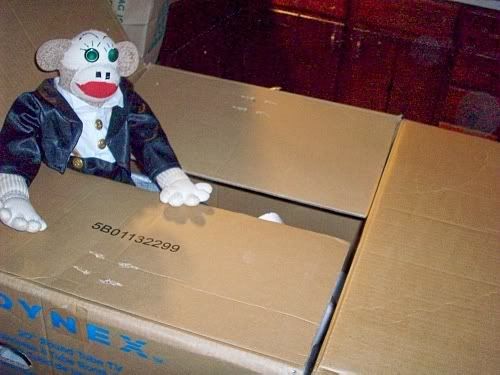 Sometimes the box is more fun than the contents! We'll be explorin that as well as we head more into the year. But for now...have a great weekend! Bubba