Okay! Ya'll caught me here in Nashville on a cold rainy day. I am sittin here readin my favorite book by B.K. Connelly. "Everything's coming up Sock Monkeys!" What else does one do on a rainy day? Now,ya'll might want ta be careful askin a Sock Monkey this question cause I just might tell ya. Upon wakin up this mornin,The Toy Hall of Fame was on my mine. I thought to myself,"I wonder if the Sock monkey was ever added." So durin my mornin coffee,I went online to check it out. Did not find a listin! I was shocked beyond belief! We Sock Monkeys have been invented since the early 30's when the red heel sock was invented. I believe it's been 77 years! Don't we rate? Raggedy Anne got in and she was a homespun creation as well. I quickly clicked the "Nominate" button! Just as pretty as you please! I'm not ashamed! I'm proud to be a Sock Monkey with style! Sure I've taken off my Tux and tails,but a celeb has the right to relax.
So here I am faced with the Nomination form to fill out and submit. Ya'll won't believe my Sock Monkey fingers were typin so fast they couldn't keep up with my Sock Monkey thoughts!!! Fast and furious it all spilled out onto the screen! Like it was magic flowin out of my fingers. So there ya have it! We Sock Monkeys have been nominated for The Toy Hall of Fame! Great way ta start off the New Year! Let 2009 be the year of the Sock Monkey! I know ya'll are sittin there wonderin,"Why didn't I think of that?" It's as plain as the nose on your face! That's what-cha got Bubba for! And I'm proud ta be there. This is an issue that needs ta be resolved immediately! This cannot be allowed to continue! I left my phone number there in hopes they would call me and give me the good news! Now we sit back and wait...Just as we did for No more drama in 2009! It's my turnnnn!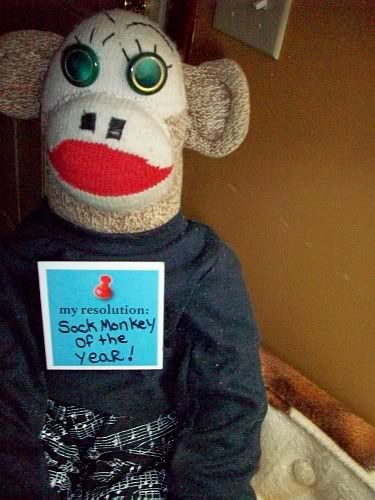 So sittin here with my resolution button on....I look down and it says Sock Monkey of the year on it. The tears welled up in my eyes,my buttons were a blir! Never have I felt such emotion come over me. I Bubba was standin there with my rod and staf out ready to march forward! I had ta have just a little drama. So little OPPS! There it goes! I have taken a stand and it lifts my soul up out of the darkness to see a new day! And there,standin in the mist of the fog was my Friend Mike! The bestest Human anyone could ever have! BFF's that no one has ever seen!!!!!!!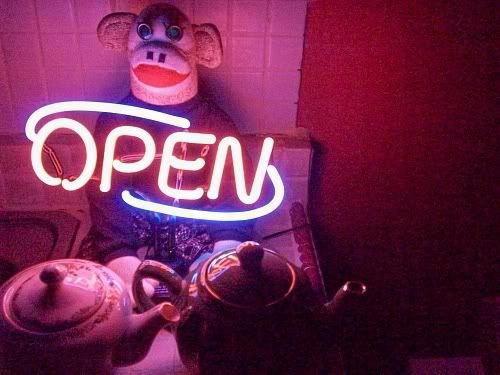 My notes one the subject will hopefully lift your spirits and make ya'll's Tuesday The best Tuesday ya'll ever had. Bubba